Handwriting
Pre-Writing and Writing Activities for Preschoolers. ABC letter formation poems. ABC Letter Formation Poems A - Pull down twice from the point to the top.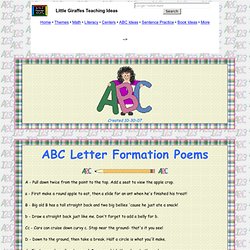 Add a seat to view the apple crop. Hands On Letters and Numbers with Doodle Buddy. When I first began learning to write my letters and numbers, I must have gone through an entire tree worth of paper as I practiced tracing and then writing them on my own.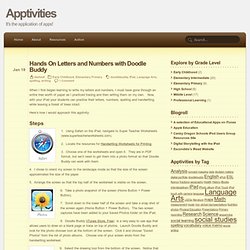 Now, with your iPad your students can practice their letters, numbers, spelling and handwriting while leaving a forest of trees intact. Here's how I would approach this apptivity: Safari 1. First Friday Q&A : Make Handwriting Practice Fun and Playful! | Not Just Cute. I'm taking a little break as we welcome our fourth son to our family.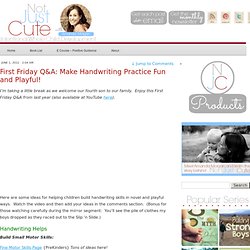 Enjoy this First Friday Q&A from last year (also available at YouTube here). Here are some ideas for helping children build handwriting skills in novel and playful ways. Watch the video and then add your ideas in the comments section. (Bonus for those watching carefully during the mirror segment: You'll see the pile of clothes my boys dropped as they raced out to the Slip 'n Slide.) Handwriting Helps. WritingActivities-0. Practice Stick Writing. Do your kids love nature?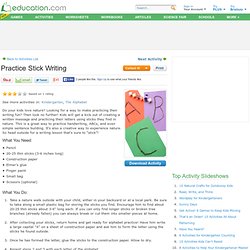 Looking for a way to make practicing their writing fun? Then look no further! Straightcurvy. Rainbow Writing. Paint Bag Writing. Learning to write letters and numbers can be frustrating for little hands!
I like to offer lots of play activities that help build those fine motor skills in a relaxed, fun way. Toddlers and up will enjoy making shapes, swirls, and even letters on a plastic bag filled with paint. To make your own paint bag writing tablet, put some finger paint or tempera paint into a sturdy freezer zip-top plastic bag. Seal it well and smoosh the paint around the entire bag.
---