Players
Information financière: qui croire? - Le parquet de la Bourse de Shanghai Aly Song / Reuters - Si vous étiez en vacances au mois de juillet, l'information vous a sans doute échappé: une agence de notation chinoise, Dagong International Credit Rating Company, est venue piétiner les plates-bandes des trois grandes agences de notation existantes (Standard & Poor's, Moody's et Fitch).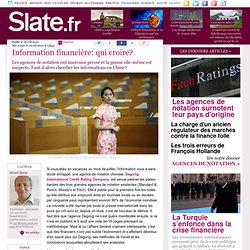 Elle a publié pour la première fois les notes qu'elle attribue aux emprunts émis en monnaie locale ou en devises par cinquante pays représentant environ 90% de l'économie mondiale. La nouvelle a été reprise par toute la presse internationale dans les jours qui ont suivi et, depuis un mois, c'est de nouveau le silence. Il faut dire que l'agence Dagong ne s'est guère manifestée ensuite, si ce n'est en publiant le 6 août une note de 19 pages précisant sa méthodologie. Moodys.com. Standard & Poor's | United States. FitchResearch. Why Are Some States Still Struggling?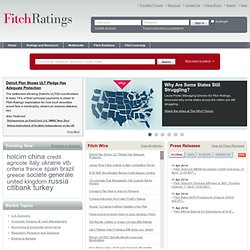 Laura Porter, Managing Director for Fitch Ratings, discusses why some states across the nation are still struggling. Watch the video at The Why? Forum Gain Access to In-depth Research and Credit Intelligence Fitch Research provides access to Fitch Ratings' industry-leading research, objective analysis, ongoing surveillance, and credit ratings. La Coface va demander son agrément comme agence de notation en E. La Belgique propose la création d'une agence européenne de la de. L'Echo: Les pays de la zone euro veulent une agence de notation.
La Russie doit avoir ses propres agences de notation, selon Pout. IOSCO. Conjoncture : La guéguerre des agences de notation. Standard & Poor's menace de revoir à la baisse la note de sa concurrente Moody's.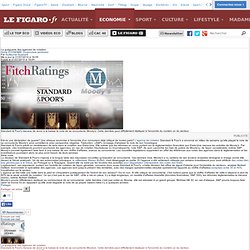 Cette dernière peut difficilement répliquer à l'encontre du numéro un du secteur. Est-ce une déclaration de guerre? Une attaque sournoise à l'encontre d'un concurrent déjà critiqué de toutes parts? L'agence de notation Standard & Poor's a annoncé en milieu de semaine qu'elle plaçait la note de sa concurrente Moody's sous surveillance avec perspective négative. Traduction: «S&P» envisage d'abaisser la note de son homologue. Eloge du monopole boursier - MARCHE MONETAIRE BOURSE.
---