Wordpress
Get flash to fully experience Pearltrees
There is always a new challenge for web designers and developers. One of the latest is definitely responsive web design ; the art of serving the same web page to multiple devices which look good on all of them. It is a getting-popular approach.
What is Reverie Framework? Reverie Framework is an extremely versatile HTML5 WordPress framework based on ZURB's Foundation , a powerful tool for building prototypes on any kind of devices. Reverie follows HTML5 Boilerplate standard and is hNews microformat ready.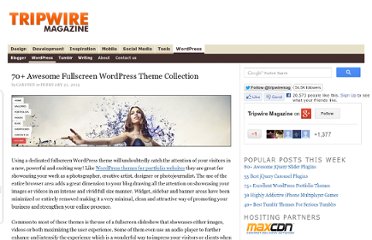 Using a dedicated fullscreen WordPress theme will undoubtedly catch the attention of your visitors in a new, powerful and exciting way! Like WordPress themes for portfolio websites they are great for showcasing your work as a photographer, creative artist, designer or photojournalist. The use of the entire browser area adds a great dimension to your blog drawing all the attention on showcasing your images or videos in an intense and vivid full size manner.
<?php * WordPress Query Comprehensive Reference
Bones is a WordPress Theme for Developers