A lire
A new initiative by the Brown University creative nonfiction program is exploring the potential of digital nonfiction through some of the web's most unusual storytelling projects. Led by its Digital Scholar in Residence, Michael Stewart , who describes himself as "an author and semi-profesional dilettante", this guest article comes courtesy of him and his class. Despite what Mark Zuckerberg and co. would like you to believe, there is a wealth of viable, interesting and entertaining things on the Internet beyond the social media stratosphere.
Digital Storytelling Continues To Push Narrative Boundaries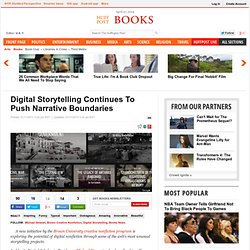 personal storytelling
With the next release of Conducttr, authors will be able to create pervasive open world stories.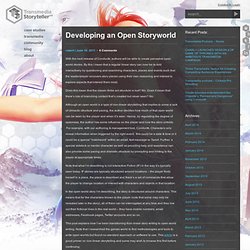 Developing an Open Storyworld
amazon
The Nine Step of Story Structure - updated for 2011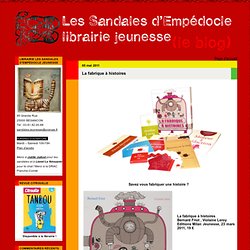 La fabrique à histoires : Les Sandales d'Empédocle librairie jeunesse
Savez vous fabriquer une histoire ?
Creating the more complex round characters takes time -- time spent thinking about how your characters look, where they're from, and what motivates them, for instance.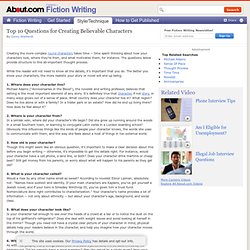 How to use Storybird
Books Articles I-imagine: Taking MY Place in the World ~ A Scrapbooking Journey PLUS Teacher's Guide (PDF Books)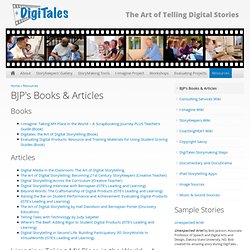 The Art of Telling Digital Stories
TheStoryTest—build you skill in spotting stories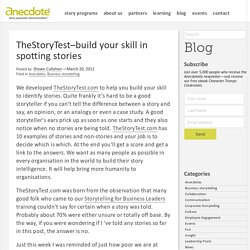 « It's how you recover when things fail that counts | Main | TheStoryTest Results » We developed TheStoryTest.com to help people build their skill to identify stories.
People who create content for YouTube today come from all walks of life: aspiring filmmakers, moms with cooking shows, teenage gossip vloggers, fantasy football commentators, ironing skydivers —the list goes on and on. Very often, these dedicated YouTubers wear several hats at once: actor, writer, director, producer, cinematographer, studio head, and lead marketer—in other words, to get their videos to the world, they need to know how to do it all.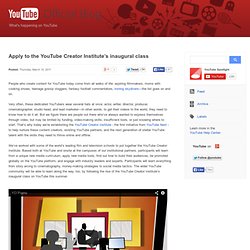 Apply to the YouTube Creator Institute's inaugural class
In the past fifteen years I have developed exercises which are part of a community-building and conflict transformation process I call, "Building the Beloved Community." In one of the anchor exercises I call, "Guts on the Table," I ask people to tell three stories. The name of the exercise,"Guts on the Table," comes from the Hawaiian understanding that your na'au , your gut is the deepest place from which you think: it's the place where your mind, heart, intuition and experience come together.
Center for the Study of Art and Community: Chapter 1: What is your gift? Why is knowing your gift important?
Le projet i-voix
MyStory - Home
Le webdocumentaire | Louise, elle est folle
L'économie de Star Wars
Stars wars est l'un des films le plus connus et surement l'un des plus vus de ces 10 dernières années.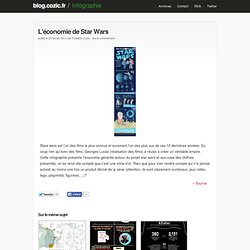 Pierre Morsa » Les quatre choses dont je me souviens une semaine après votre pitch
How to create video storytelling that actually tells a story - 10,000 Words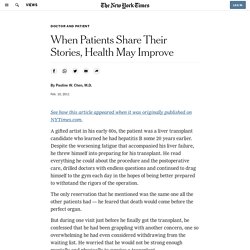 The only reservation that he mentioned was the same one all the other patients had — he feared that death would come before the perfect organ. But during one visit just before he finally got the transplant, he confessed that he had been grappling with another concern, one so overwhelming he had even considered withdrawing from the waiting list. He worried that he would not be strong enough mentally and physically to survive a transplant.
Patient Stories May Improve Health
As I continue to explore the transmedia space, I've repeatedly come across the discussion of the storycube and their importance for thinking transversally .
Guagua Pública: Introduction to the Transmedia Storycube for Authors
Neverland
Pacôme Thiellement et ses lectures : Quel est le livre qui vous a donné envie d`écrire? Pas un livre en particulier, mais les textes de Roger Gilbert-Lecomte et de René Daumal dans le Grand Jeu.
Pacôme Thiellement - Livres, citations, photos et vidéos
Les mêmes yeux que Lost - Pacôme Thiellement - Critiques, extraits et informations
Les Séries télé pour les nuls - Marjolaine Boutet - Critiques, extraits et informations
où l'on vous parle de séries télévisées !
On parle séries télés sur Babelio ! Après avoir accordé beaucoup de place à la musique au sein du site et du présent blog, notamment à travers les interviews de Jérôme Soligny , d' Hugues Barrière et d' Hubert Mansion , mais aussi dans le cadre de notre club de lecture consacré à la biographie de Patti Smith , il était de s'intéresser à un autre aspect de la culture populaire moderne : Les séries télés !
La rhétorique casse encore des briques
« Le propre de la rhétorique, c'est de reconnaître ce qui est probable et ce qui a l'apparence de la probabilité. » Aristote *