Tbs
Polyvore
Answering Machine Funny Answering Machine Messages ... "Hi, you have reached the Borg collective. Please leave your name and star system and we'll assimilate you as soon as we can." "Hey guess who this is?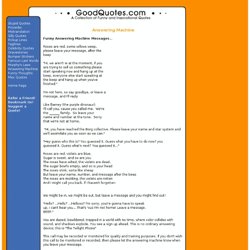 Everd Quote Archive
Inspirational Quotes
A teacher affects eternity: he can never tell where his influence stops. Henry Adams What nobler employment, or more valuable to the state, than that of the man who instructs the rising generation. Marcus Tullius Cicero The important thing is not so much that every child should be taught, as that every child should be given the wish to learn. John Lubbock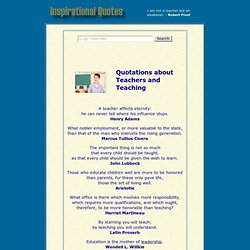 Life Quotes
Albert Einstein Quotes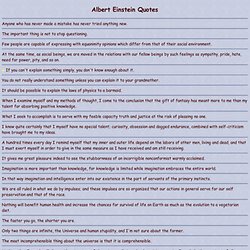 Anyone who has never made a mistake has never tried anything new. The important thing is not to stop questioning. Few people are capable of expressing with equanimity opinions which differ from that of their social environment. At the same time, as social beings, we are moved in the relations with our fellow beings by such feelings as sympathy, pride, hate, need for power, pity, and so on. If you can't explain something simply, you don't know enough about it.
Sarcasm is an obscure form of humor that needs an acquired taste to appreciate. If you are a fan of Chandler Bing from the popular series, 'Friends', you know what I am trying to say. That guy just keeps coming up with sarcastic lines all the time. Sarcasm is disguised humor and mockery which can even pass as a straight statement if not understood carefully. If you are someone like 'Joey' (from the same series 'Friends'), you will have a tough time detecting it.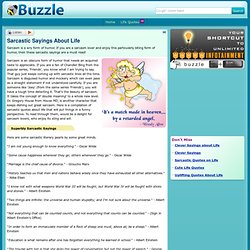 The Cynic Hall of Fame
Arranged chronologically by date of birth. (c. 600 B.C. ) Was he real or legendary? We're not absolutely sure. Aesop may have been a slave who lived on the Greek isle of Samos; it's said that he was slain by irate priests at the Oracle of Delphi. (He probably got himself into hot water by mocking their beliefs.)
Photo Quoto
"Combining beautiful pictures & great quotes" by blakelylaw Apr 30
Honest Tea Quotes
Man has always been intrigued and fascinated with the cat so it's not surprising that there are so many cat-related quotes throughout time. This is a selection of some of my favourite quotes that I have collected over the years that I know all feline lovers will enjoy. This page will be updated with new quotes from time to time so please feel free to come back again soon! "In the beginning, God created man, but seeing him so feeble, He gave him the cat." - Warren Eckstein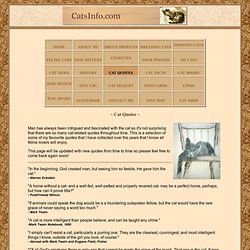 Feline Quotes
Laugh It Out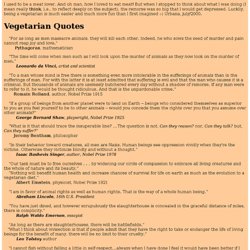 I used to be a meat lover. And oh man, how I loved to eat meat! But when I stopped to think about what I was doing (I mean really think , i.e., to reflect deeply on the subject), the remorse was so big that I would get depressed.