Quilting fabric and Supplies
Hancock's of Paducah - The world's foremost supplier of fine fabrics and notions.
I've written several books with the words "Last-Minute" in the title, so you can imagine that I occasionally relish the exact opposite! Especially in the depths of winter, I love to sink my teeth into a project whose gratification may not be immediate but whose pleasure is deeply satisfying. My Diagonal Pinstripe Scarf is just that! Not only does this scarf represent a month or two of on-again-off-again knitting, but its pinstripes actually serve as a record of my production. I wanted the stripes to be syncopated and unexpected, but have you ever tried to be intentionally random?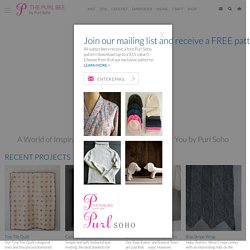 We are offering a Joel Dewberry Botanique fat quarter bundle for this weeks giveaway! For details on this giveaway, click here. Palos Verde Voile by A Creative Mint (Late January) Meadow by Leah Duncan (February) Fox Field by Tula Pink (March) Wee Wander by Sarah Jane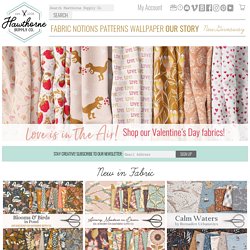 Moda Fabrics - Producer of Quilting Fabric, Sewing Notions, and Home Decor
Quilting with Different Fabrics + QuiltEssential Giveaway Erin Burke Harris has a new book out, QuiltEssential: A Visual Directory of Contemporary Patterns, Fabrics, and Colors! Enter to win a copy, and learn from Erin about how to incorporate different types of fabric in your quilting (linen, velveteen, denim and more)... Read More » 31 Inspiring Quilters ~ Alex of Teaginny Designs Debbie from A Quilter's Table curated a Quilting Month series for us with 31 Inspiring Quilters throughout January!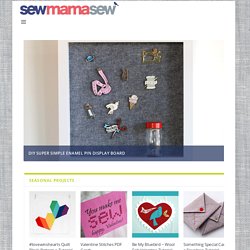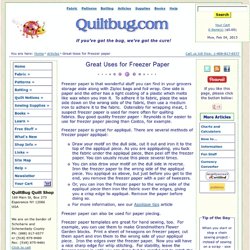 Freezer paper is that wonderful stuff you can find in your grocers storage aisle along with Ziploc bags and foil wrap. One side is paper and the other has a light coating of a plastic which melts like wax when you iron it. To adhere it to fabric, place the wax side down on the wrong side of the fabric, then use a medium iron to adhere it to the fabric. Ostensibly for wrapping meat, I suspect freezer paper is used far more often for quilting fabrics. Buy good quality freezer paper - Reynolds is far easier to use for freezer paper piecing than Costco, for example.
Great Uses for Freezer paper
HeartSong Quilts is one of the most unique quilt shops in America, and offers visually stunning fabrics along with patterns, quilt kits, notions, books, clearance fabrics, and other cool stuff.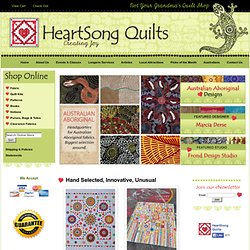 New & Exciting Design Studio! rond Design Studios is a fabric company with a collective group of artists committed to original ideas and fresh, new concepts. It uses only hand generated art for its designs.. Frond Design is a lifestyle!
Art Gallery Fabrics-The Creative Blog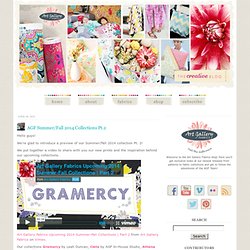 Hello fabric lovers, We're happy to introduce Pat Bravo's newest collection, Essentials! Pat's most versatile prints are finally here!! The elements and color palette she chose came together in trendy yet timeless prints offering many possibilities when combining them with other fabrics! The colors vary from delicate beiges to bold blues.
Welcome to Liberty Star's online shop! If you are looking for the "compact sewing clutch" on page 24 in the December issue of American Patchwork & Quilting magazine – it's in pattern LIB157 Sweetbriar . We're glad you stopped by to visit with us. Please support your favorite quilt shops and ask for Liberty Star designs there.
Liberty Star - Welcome
Home page
To make a beautiful quilt, you need three things: motivation, skills, and quality supplies! Our goal is provide quilters (or to-be quilters) with all three. Our rapidly growing library of free quilting tutorials on QuiltingTutorials.com provides thousands with not only the essential skills to complete projects, but also with the encouragement and motivation to pick up a rotary cutter and some fabric and get started! Our tutorials focus on beginners and more advanced quilters alike, and aim to teach quilters quicker and easier ways to make gorgeous creations. We also have a flourishing Quilting Forum where thousands of quilters can exchange knowledge, offer each other support and just plain have fun!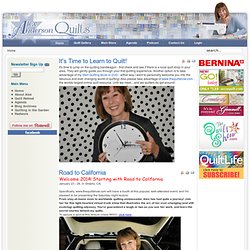 Alex Anderson Quilts Home
Hope you all are having a great summer – it's going to be over sooner than we think! I want to share a couple of exciting events coming up in the next few months as summer comes to end and our beautiful fall weather begins. Lots of things are happening in late September and early October starting with the one and only Quilting In The Garden quilt show at the Alden Lane Nursery here in Livermore, on Saturday and Sunday, September 28-29.
Sew up creative projects with our step-by-step instructions and quilt patterns. Use these ideas for inspiration. Free Quilt Patterns for Bed-Size Quilts and ThrowsBHG.com / Crafts / Sewing / Free Quilt Patterns for Bed-Size Quilts and Throws Free Quilt Patterns for Bed-Size Quilts and Throws Curl up with one of these handmade bed-size quilts and quilted throws … Free Quilt Patterns for Small Quilts BHG.com / Crafts / Quilting / Free Quilt Patterns for Small Quilts Free Quilt Patterns for Small Quilts Try one of these small quilting projects to add quick style to your home. Use our step … Quilt Patterns We Love… Projects / Quilt Patterns We Love Quilt Patterns We Love We love quilts ! Here you will find a collection ..... Table Runner.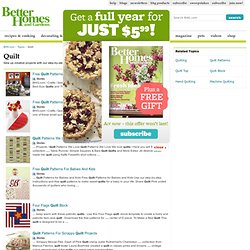 Quilt and more at Better Homes and Gardens
Baby rickrack adds playfulness and dimension to this cute,... Setting a stylish table is easy with this colorful runner. Rows... Easy-to-create, machine-couched springtime tulips dance atop... A long-time decorating favorite, the paisley pattern is back... Update a purchased plain-Jane cardigan with fabric rosettes to...
Quilting Patterns, Sewing Patterns and More | Clotilde
The Berry Basket quilt block is a perfect design for spring. Fill it with berries if you like, or choose a floral print that suits your basket fabrics. The block finishes at 12" square, and I've included a couple of different construction methods. The first walks you through a patch-by-patch assembly (other than quick pieced half square triangle units) and the second helps you strip piece twelve basket blocks.
Quilt Patterns, Books and Discounted Supplies for the Quilting World | QuiltersWarehouse.com
QuiltersWarehouse.com specializes in providing a large selection of quality quilt patterns. We have a variety of patterns to suit the taste of most anyone. Everyone has their own favorite pattern. Our top sellers range from the applique floral quilts to wool & penny rug patterns. In fact the site has hundreds of items to choose amongst. We even sell Wearable quilt patterns and for vests and jackets.
Quilters, sewers and crafters love Robert Kaufman Fabrics' wide variety of quilting fabrics, novelty prints, patterns and coordinates, and never fail to come up with creative new combinations. Browse our collection of quilts and other projects and pick up some new ideas and inspiration. Click on a project to see a larger image and either download the free quilt pattern (where available) or visit the quilt designer's website.
Quilts, Free Quilt Patterns and Designer Patterns: Robert Kaufman Fabrics
Laundry Basket Quilts
Shabby Fabrics | Moda Fabric, Online Quilting Fabrics, Quilt Kits, Patterns, Block of the Month
Quilting Fabrics,Quilting Supplies, Quilt Fabric,Kits & More
Thousands of Bolts ... only one nut!:
Quilting Fabric - Great selection of discount quilting fabrics- Fabric.com
Welcome to Fons & Porter - Free Quilting Patterns, Quilting Tips, Quilting Video How To
Quilting Patterns, Easy Quilts, Quilting Lessons and More! | McCalls Quilting
QNNtv - Online Quilting Videos