Quilting fabric and Supplies
Spoonflower blog
Over the last few years, there have been some obvious standouts in the world of contemporary textile design. People like Amy Butler, Lotta Jansdotter, and Natalie Chanin have garnered well-deserved attention for their fresh signature styles, while paving the way for other talented women to make an impact in the industry. Here are ten whose work merits a closer look. Erin Flett Erin lives and works in Maine, where she has a family and two young daughters. Her pillows have a hand-drawn, slightly imperfect appearance, as they're handmade from vintage reproduction bark cloth printed with water-based inks. Kerry Cassill From her headquarters in Laguna Beach, California, Kerry Cassill creates cotton fabric collections (for body and home) inspired by traditional Indian block prints and the vibrant colors of impressionist painters.
Textile Designers: 10 Women to Watch - Shopping Guide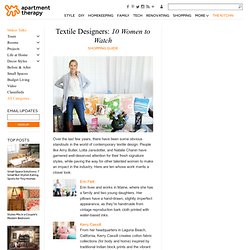 Contemporary Cloth | Oakshott, Yuwa, Organic & Hand-Printed Fabric
I am asked certain questions so frequently and I try my hardest to be helpful and answer all questions that come my way. To help facilitate a bit, I've created a FAQ's section where I can navigate people to and give a little more in depth answer easier. (That way we get to chat a bit more!) How to get started designing fabric is something that people are so incredibly interested in. Some people are wanting to design themselves, some are just curious about the medium they love!
How do you Design Fabric? - Portabellopixie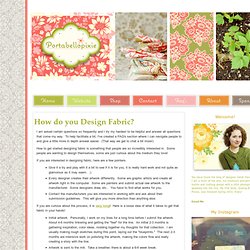 Lotta Jansdotter The Lotta Jansdotter studio and storefront opened its doors in the Summer of 2002, located in Nob Hill San Francisco. As principal designer for her name sake company, Lotta is continually expanding her horizons, adding new collections of table linens, handbags, cushions, t-shirts, stationery, ceramics, wall hangings, home and fashion accessories that both inspire and reflect a simple, elegant life style. jansdotter.com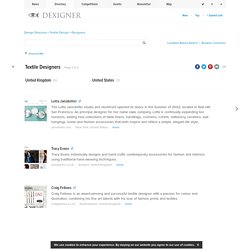 Textile Designers
FreeSpirit fabric designers
Anna Maria Horner grew up in a house full of her dad's paintings and with a closet full of her mom's handi-work. As a kid in the 70's, she passed up the $1.79 Barbie dresses in Service Merchandise, opting instead to create designs from her mother's fabric scraps....an artist was born. After graduating with an honors fine arts degree in drawing, Anna Maria opened Handmaiden, a clothing and housewares boutique. This store served as homebase for all her fashion and design interests. Here, she also began a line of highly sought after handbags, intricately fashioned from an array of materials, that made their way onto Hollywood's red carpet.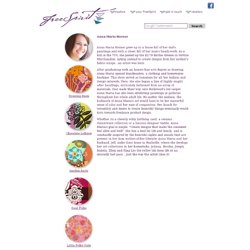 Hancock's of Paducah - The world's foremost supplier of fine fabrics and notions.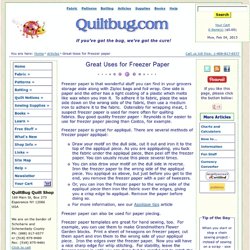 Freezer paper is that wonderful stuff you can find in your grocers storage aisle along with Ziploc bags and foil wrap. One side is paper and the other has a light coating of a plastic which melts like wax when you iron it. To adhere it to fabric, place the wax side down on the wrong side of the fabric, then use a medium iron to adhere it to the fabric. Ostensibly for wrapping meat, I suspect freezer paper is used far more often for quilting fabrics. Buy good quality freezer paper - Reynolds is far easier to use for freezer paper piecing than Costco, for example.
Great Uses for Freezer paper
HeartSong Quilts is one of the most unique quilt shops in America, and offers visually stunning fabrics along with patterns, quilt kits, notions, books, clearance fabrics, and other cool stuff.
Art Gallery Fabrics-The Creative Blog
Liberty Star - Welcome
Home page
Alex Anderson Quilts Home
Quilt and more at Better Homes and Gardens
Quilting Patterns, Sewing Patterns and More | Clotilde
Quilt Patterns, Books and Discounted Supplies for the Quilting World | QuiltersWarehouse.com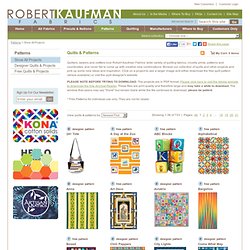 Quilters, sewers and crafters love Robert Kaufman Fabrics' wide variety of quilting fabrics, novelty prints, patterns and coordinates, and never fail to come up with creative new combinations. Browse our collection of quilts and other projects and pick up some new ideas and inspiration. Click on a project to see a larger image and either download the free quilt pattern (where available) or visit the quilt designer's website.
Quilts, Free Quilt Patterns and Designer Patterns: Robert Kaufman Fabrics
Laundry Basket Quilts
Shabby Fabrics | Moda Fabric, Online Quilting Fabrics, Quilt Kits, Patterns, Block of the Month
Quilting Fabrics,Quilting Supplies, Quilt Fabric,Kits & More
Thousands of Bolts ... only one nut!:
Quilting Fabric - Great selection of discount quilting fabrics- Fabric.com
Welcome to Fons & Porter - Free Quilting Patterns, Quilting Tips, Quilting Video How To
Quilting Patterns, Easy Quilts, Quilting Lessons and More! | McCalls Quilting
QNNtv - Online Quilting Videos