Articles divers sur le QuantifiedSelf
Get flash to fully experience Pearltrees
In the first KZero post on Lifelogging , I indicated that in a way Lifelogging was a natural evolution of how we publish 'personal information'. The argument used is the first real mainstream form of persona data capture was (and is) blogging. People sitting down at their computer and writing a blog post (text and image based).
This is KZero entry number one about Lifelogging – and will definitely not be the last. Over recent weeks I've noticed a surge in tweets and media articles about this concept and it's one that's been on our radar for a while.
For all of its wild popularity, caffeine is one seriously misunderstood substance.
[Cross-posted to Quantified Self ] We experiment on ourselves and track the results to improve the way we work, our health, and our personal lives. This rational approach is essential because there are few guarantees that what works for others will work for us.
Massive Health , a new San Francisco start-up aimed at tackling health care problems, has just raised $2.25 million in its first round of funding from a stellar list of investors. The company plans to use the money to develop mobile applications that help users treat chronic diseases using big data, analytics, social and game mechanics.
#1 Thing You Need to Learn from This Post: Giving people analytics of their daily activities can help change their behavior.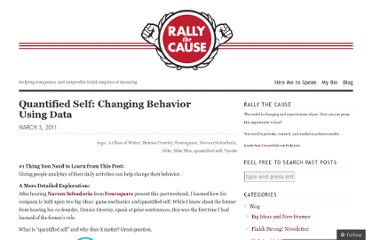 Horacio Salinas for The New York Times