Quantified Self
6 gadgets qui rendent le sport ludique. Le marché de la santé connectée, un marché juteux mais qui vous veux du bien.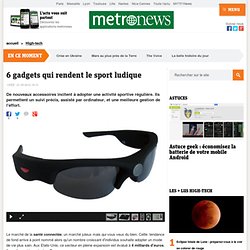 Cette tendance de fond arrive à point nommé alors qu'un nombre croissant d'individus souhaite adopter un mode de vie plus sain. Aux Etats-Unis, ce secteur en pleine expansion est évalué à 4 milliards d'euros. Il serait aussi important en Europe. La multiplication de ces accessoires high-tech sert à la fois de motivation, on peut constater ses progrès sur d'élégantes courbes graphiques par exemple, et de garde-fou pour éviter les excès. "Plus les gens peuvent se surveiller, mieux c'est, souligne le professeur Hervé Douard, cardiologue au CHU de Bordeaux (lire l'interview intégrale).
Five Best Fitness Tracking Appliances. I have one, and I can say it's epic as long as you pair it with a heart rate monitor.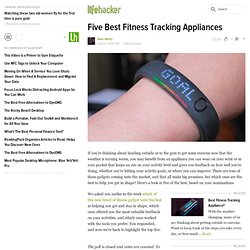 I paired mine with Garmin's heart rate monitor, but Polar should work too (any ANT+ fitness device will pair). The real bread and butter for the MotoACTV comes from tracking performance via heart rate. By 2017: 170M wearable wireless health and fitness devices. In five years the number of wearable wireless health and fitness devices will hit 169.5 million, according to a report from ABI Research.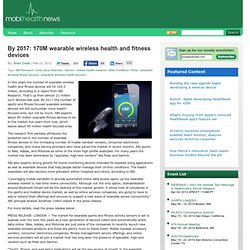 That's up from almost 21 million such devices last year. By 2017 the number of sports and fitness focused wearable wireless devices will still outnumber more health-focused ones, but not by much. ABI expects about 90 million wearable fitness devices to be in the market five years from now, which leaves about 80 million health-focused ones. The research firm partially attributes the predicted rise in the number of wearable fitness devices to the increasing number of mobile handset vendors, consumer electronics companies, and online service providers who have joined the market in recent months.
All your data are belong to us, again. Jeudi et vendredi, j'étais présent au Forum Netexplo 2012, comme chaque année.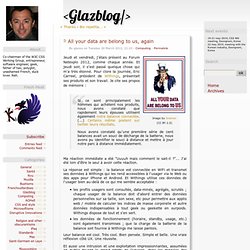 Et jeudi soir, il s'est passé quelque chose qui m'a très étonné. Pour clore la journée, Eric Carreel, président de Withings, présentait ses produits et son travail. Your Body Is an API: 9 Gadgets for Tracking Health and Fitness | Gadget Lab. The "quantified self": It's a lifestyle philosophy that says tracking one's own personal data -- calories burned, hours slept, miles run -- is the path to self-realization.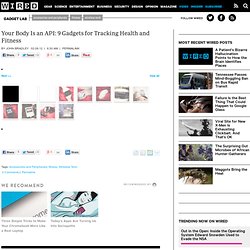 All this data-tracking requires gadgets, and many innovative specimens were on display at CES 2012 last month.When it comes to your health, correcting bad behavior after periodic visits to the doctor is a step in the right direction. And it's even more likely that you'll make positive lifestyle adjustments based on, say, weekly visits to a personal trainer or daily weigh-ins on your bathroom scale. Vous Patrick Poiraud from Toulouse ? Comatek : avec U-STON peut-être qu'il n'y aurait pas eu de suicides chez qui vous savez ? Comatek est une startup créée en 2010 dans le but de développer des applications de management collaboratif.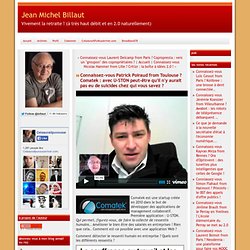 Première application : U-STON. Qui permet, figurez-vous, de faire la collecte de ressentis humains.. INSOLITE • Vous séchez la gym ? Votre iPhone vous retient 5 dollars. Vous avez pris du bide pendant les fêtes, et vous vous promettez d'aller plus souvent à votre salle de sport.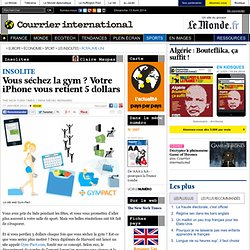 Mais vos belles résolutions ont tôt fait de s'évaporer. Et si vous perdiez 5 dollars chaque fois que vous séchez la gym ? Est-ce que vous seriez plus motivé ? Deux diplômés de Harvard ont lancé un site appelé Gym-Pact.com, fondé sur ce concept. Gym-Pact Fines You for Not Exercising. With the start of a new year, many people resolve to shed their holiday paunch by hitting the gym more frequently.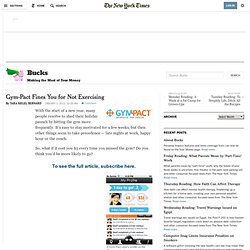 It's easy to stay motivated for a few weeks, but then other things seem to take precedence — late nights at work, happy hour or the couch. So, what if it cost you $5 every time you missed the gym? Seth's Blog » quantified self movement. Here is an excellent introduction to cognitive-behavioral therapy (CBT) for depression, centering on a Stanford psychiatrist named David Burns.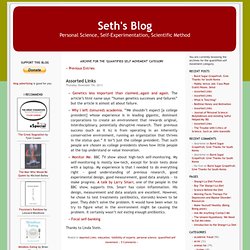 I was especially interested in this: [Burns] currently draws from at least 15 schools of therapy, calling his methodology TEAM—for testing, empathy, agenda setting and methods. . . . Testing means requiring that patients complete a short mood survey before and after each therapy session. Nike+ FuelBand : le bracelet pour calculer son activité physique. Nike vient de présenter son nouveau bracelet nommé Nike+ FuelBand.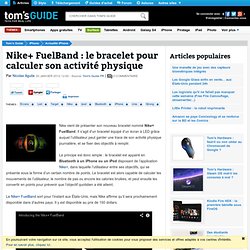 Il s'agit d'un bracelet équipé d'un écran à LED grâce auquel l'utilisateur peut garder une trace de son activité physique journalière, et se fixer des objectifs à remplir. Le principe est donc simple : le bracelet est appairé en Bluetooth à un iPhone ou un iPod disposant de l'application Nike+, dans laquelle l'utilisateur entre ses objectifs, qui se présente sous la forme d'un certain nombre de points. Le bracelet est alors capable de calculer les mouvements de l'utilisateur, le nombre de pas ou encore les calories brulées, et peut ensuite les convertir en points pour prévenir que l'objectif quotidien a été atteint.
The Future of Personalized Medicine. Blog — 4 Unknown Aspects of the Quantified Self Movement. The Quantified Self is, yes, a Movement. QS Meetups pop up everywhere in the world. There are already 45 Meetups worldwide, (22 in the US, 12 in Europe, then Tokyo, Beirut, Sydney, Rio,…). Yet QS is still very hard to explain to non-initiates. Problem is, "Quantified Self" is a vastly misleading label; by no way is it a description of the movement's true meaning. I will hereunder expose 4 hidden aspects of what the Movement is really about. Lloyds Pharmacies to sell Proteus smart pills, sensors. Proteus Biomedical's Raisin system, which Helius is based on. UK-based retail pharmacy chain Lloydspharmacy has inked an exclusive deal with Proteus Biomedical to launch Proteus' first commercial product, Helius, an offering that includes sensor-enabled pills, a peel-and-stick sensor patch worn on the body, and a mobile health app.
The patch records when a pill is ingested, tracks sleep patterns, and records physical activity levels. The Helius offering is based on Proteus' Raisin system, which secured a CE Mark and is expected to roll out commercially in other countries across Europe. As Smartphones Get Smarter, You May Get Healthier: How mHealth Can Bring Cheaper Health Care To All. Epatients: The hackers of the healthcare world. I help build open source software tools that patients can use to have greater control and influence over their own healthcare (like the Direct Project and Your Doctors Advice).
As as result, I've become quite familiar with other tools that do the same sorts of things. There is a community of patients who are deeply interested in the ways in which they can become more engaged and how they can specifically use technology to achieve this. This community calls themselves epatients. The epatient community asked me to write a short collection of resources for "becoming an epatient."
Christophe.ducamp | Track Your Happiness. Our Data, Ourselves | Computers. Evans's daily productivity surveys soon inspired him to create a broader, more flexible mobile platform for self-experimentation that he dubbed PACO—an acronym for Personal Analytics Companion, but also a tribute to the dog that helped inspire his data-tracking ideas. Now PACO is used by thousands of Google employees, and not just for productivity. The app is fully customizable, which means it can track any data point a user dreams up.
Nicholas Feltron: le self-tracking, "de nouvelles formes de communication condensées" Adepte reconnu du self-tracking, Nicholas Feltron revient dans une interview sur cette démarche : pourquoi conserver et visualiser ses données personnelles avec tant de précision ? Vous travaillez actuellement à l'élaboration d'un livre sur les moyens de production artistique. Considérez-vous qu'aujourd'hui, l'information et les données font partie de ces moyens ? L'information est quelque chose qui se répand partout. J'ai testé pour vous le bracelet UP by Jawbone. Know thyself: the Quantified Self devotees who live by numbers | Science.
Self Tracking France. Matt Cutts: Try something new for 30 days. Quantified Self (3/3) : Les tabous de la mesure. Quantified Self (1/3) : Mettre l'informatique au service du corps. Quantified Self (2/3) : Des outils au service de soi.
---