QR code
Le QR code (ou code 2D) est la possibilité de relier le site internet et le monde réel : les informations terrain, les impressions et autres suports sont désormais dynamiques et à la portée de tous. agerix Feb 28
QR4 - QRCode | QR Code generators, information, tools, services and utilities
QR CODE DESIGN PERSONNALISE
How To Embed A Custom Logo Design In A QR Code | Content Developer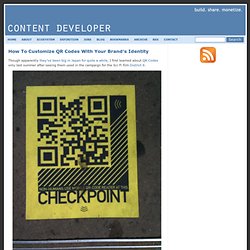 Though apparently they've been big in Japan for quite a while, I first learned about QR Codes only last summer after seeing them used in the campaign for the Sci Fi film District 9. Seeing this got me to wondering – Can you customize QR Codes with your own design features, logo or brand identity?
My Items
Créer votre générateur de QRcode - QR code, flashcode, datamatrix, microsoft tag et tous les codes barres 2D
Mercredi 22 décembre 2010 3 22 /12 /Déc /2010 13:30 Vous aussi, vous pouvez en toute simplicité intégrer ce générateur de QR code sur votre blog ou sur votre site internet. Il vous suffit pour cela d'intégrer le bout de code htlm développé par Tony Lukasavage. Ce code, qui doit être copié/collé sur votre site (utilisez pour cela l'éditeur htlm de votre page web), est disponible sur son blog savagelook.com Pour information, Tony utilise dans son générateur l'API Google Chart. http://chart.apis.google.com/chart?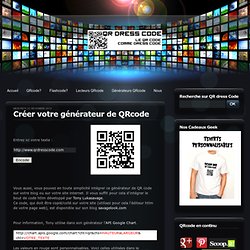 MyQR Profil
learnmore