QR-code
Fujitsu Develops Invisible QR Codes Made Of Light. Interactive television ads are nothing new; banner overlays on commercials have long let viewers 'click' for more product information or to redeem special offers, and as of late, brands have employed Shazam in ads to reward viewers with exclusive deals for watching the commercial.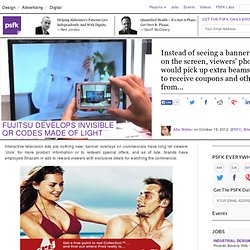 The interactive ad format has been shown to increase engagement with viewers; David Jones, Shazam's EVP of Marketing has been quoted as saying, 'In five or so seconds on screen, you can literally double the engagement that you're getting on social media through these rich Shazam experiences.' But in both examples, pictured above and below, the viewing experience is interrupted by an on-screen presence alerting the viewer to the opportunity. While the banner overlays and Shazam buttons are additive in engagement opportunities, they are detractive and obtrusive. Create barcode in Excel 2007 with ActiveX. This is an advanced but more complex way to insert barcode into Excel 2007.
The advantages of using ActiveX control instead of simple document embedding - the possibility to use the standard Excel's Properties window and the ability to modify the barcode object using VBA. Need more advanced example? See how to automate the creation process for multiple GS1-128 bar codes in Excel or how to create multiple Data Matrix bar codes from Excel table. Social Media QR Code Generator.
Online Social Media QR Code Generator for your Twitter profile This is a free social media QR code service to generate QR codes for your Twitter profile.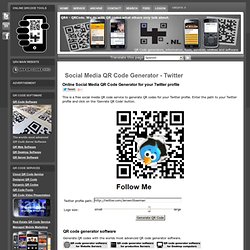 Enter the path to your Twitter profile and click on the 'Genrate QR Code' button. Sharing the QR code generator with others Copy the code below and paste it in your web site or blog so your visitors know where to go to generate QR codes. Note: The free online QR code generators of QR4 are provided 'as is' and are not intended for print production or industrial use and have no support.
Social Media - Twitter QR Code Generator. Online Social Media Twitter Profile QR Code Generator This is a free service to generate social media QR codes online for your Twitter®™ profile.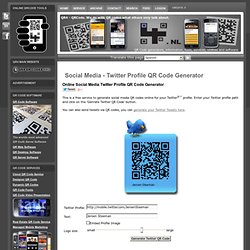 Enter your Twitter profile path and click on the 'Genrate Twitter QR Code' button. You can also send tweets via QR codes, you can generate your Twitter Tweets here. Sharing the QR code generator with others. Create A Status Update URL For Twitter | Zeek Interactive. Create QR Code. Using QR codes to update Twitter. Jointly posted with Richard Schatzberger, Director of Creative Technology, BBH New York With the holidays now in full swing we thought we would get into the spirit of giving and share an idea we have been playing with in BBH Labs.
It's nice and simple. So simple in fact that we can't imagine that someone has already done it (tweet us a link if you have seen it in action). SnapTags: Will they kill QR codes? I remember a time when truncating the UPC bar code on the cover of a magazine was a huge coup.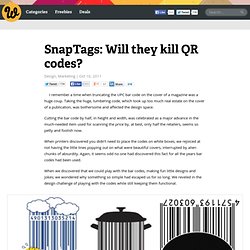 Taking the huge, lumbering code, which took up too much real estate on the cover of a publication, was bothersome and affected the design space. Cutting the bar code by half, in height and width, was celebrated as a major advance in the much-needed item used for scanning the price by, at best, only half the retailers, seems so petty and foolish now. Microsoft Tags: A Compelling Alternative To QR Code Hyperlinks. Search marketers are interested in print-based hyperlinks: traffic to my QR Codes: Are You Ready For Paper-Based Hyperlinks?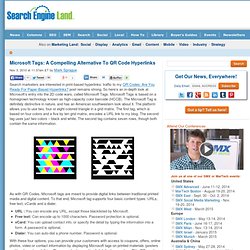 Post remains strong. So here's an in-depth look at Microsoft's entry into the 2D code wars, called Microsoft Tags. Microsoft Tags is based on a homegrown technology known as high-capacity color barcode (HCCB). CantineFVG.com - il portale delle cantine del Friuli Venezia Giulia in multilingua. Fate conoscere la vostra azienda vinicola e i vostri vini con il primo portale che permette di far comunicare le vostre etichette sulle bottiglie direttamente con questo sito e quindi con le schede dei vostri vini attravso i qrcode: Scoprite come funzionano i Qr Code Utilizzate la Realtà Aumentata per stupire i vostri clienti, rimarranno a bocca aperta: Scoprite come funziona la Realtà Aumentata QrCode: Marker Realtà Aumentata Decodifica questo qr code, raggiungerai la scheda del vino, la scheda dell'azienda che lo produce e tutti gli vini prodotti dall'azienda, oppure utilizza questo marker per realtà aumentata all'indirizzo del nostro demo.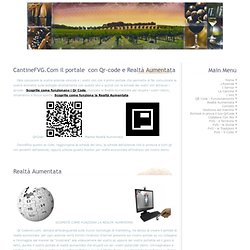 Il portale delle cantine Italiane in multilingua. E' nato il nuovo portale IlVinoDivino.it per aziende vinicole, ristoranti ed enoteche.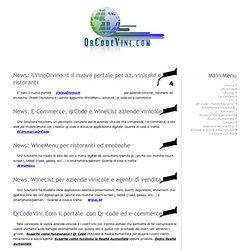 Chiedi l'iscrizione e i servizi aggiuntivi WineMenu, wineList, qr code ed e-commerce QrCode: Marker Realtà Aumentata Decodifica questo qr code, raggiungerai la scheda del vino, la scheda dell'azienda che lo produce e tutti gli vini prodotti dall'azienda, oppure utilizza questo marker per realtà aumentata all'indirizzo del nostro demo. L'idea originale di questo portale è quella di riuscire a creare un collegamento tra la bottiglia di vino che ognuno di noi può avere davanti a sè e che verrà dotata di un particolare codice a barre stampato su di essa e le caratteristiche tipiche ed uniche di quel vino.