Puppetry
Puppetry. Tabletop Moviemaking Professional Development workshop. The Best Resources For Using Puppets In Class. I've used puppets with both my Beginning English Language Learner classes and with a mainstream ninth-grade English class (though, admittedly, the ninth-grade class was during summer school when we have the same class for five hours a day and students need a lighter activity now and then).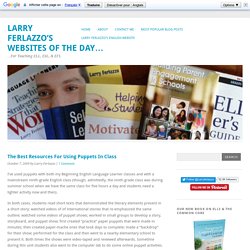 In both cases, students read short texts that demonstrated the literary elements present in a short story; watched videos of of international stories that re-emphasized the same outline; watched some videos of puppet shows; worked in small groups to develop a story, storyboard, and puppet show; first created "practice" paper puppets that were made in minutes; then created paper-mache ones that took days to complete; made a "backdrop" for their show; performed for the class and then went to a nearby elementary school to present it.
Both times the shows were video-taped and reviewed afterwards. Sometime during this unit students also went to the computer lab to do some online puppet activities. Teaching with Puppets: A Video Resource for Teachers | Education. Government of Newfoundland and Labrador Department of Education Text Size.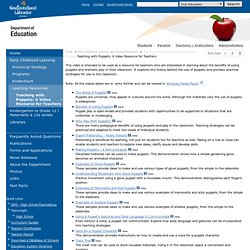 Www.nationalww2museum.org/learn/family-activities/projects-to-do-at-home/rosie-puppet.pdf.
All things Muppets. Extras: Sounds, Music, Etc.. iPad Apps. Flannel Board. Organizations. Interactive Sites. Resources. Scripts. How-To's.
---