Punk rock
Pere Ubu - Navy
‪London Calling‬‏
The Buzzcocks - Fast cars
Talking Heads - Psycho Killer 1984
Stinky Toys - 'Plastic Faces' 1977
Stinky Toys
Rancid
Un article de Wikipédia, l'encyclopédie libre. Rancid est un groupe punk rock américain , formé en 1991 à Berkeley , en Californie . Le groupe est reconnu pour avoir contribué, avec les groupes Green Day et The Offspring , à ramener le punk rock sur l'avant-scène musical aux États-Unis durant les années 90 [ 1 ] . Le groupe est actuellement composé de Tim Armstrong et Lars Frederiksen à la guitare et au chant , de Matt Freeman à la basse et de Branden Steineckert à la batterie [ 2 ] . Le groupe a sorti jusqu'à maintenant sept albums studio.
The Cramps - Naked Girl Falling Down The Stairs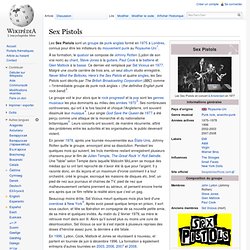 Un article de Wikipédia, l'encyclopédie libre. Les Sex Pistols sont un groupe de punk anglais formé en 1975 à Londres , connus pour être les initiateurs du mouvement punk au Royaume-Uni [ 1 ] . À sa formation, le quatuor se compose de Johnny Rotten (Lydon de son vrai nom) au chant , Steve Jones à la guitare , Paul Cook à la batterie et Glen Matlock à la basse . Ce dernier est remplacé par Sid Vicious en 1977 . Malgré une courte carrière de trois ans, un seul album studio enregistré, Never Mind the Bollocks, Here's the Sex Pistols et quatre singles , les Sex Pistols sont décrits par The British Broadcasting Corporation ( BBC ) comme « l'irrémédiable groupe de punk rock anglais » ( the definitive English punk rock band ) [ 2 ] .
Sex Pistols