Asteraceae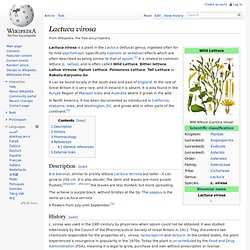 Lactuca virosa is a plant in the Lactuca (lettuce) genus, ingested often for its mild psychotropic (specifically hypnotic or sedative ) effects which are often described as being similar to that of opium . [ 1 ] It is related to common lettuce ( L. sativa ), and is often called Wild Lettuce , Bitter lettuce , Laitue vireuse , Opium Lettuce , Poisonous Lettuce , or Rakutu-Karyumu-So . It can be found locally in the south east and east of England . In the rest of Great Britain it is very rare, and in Ireland it is absent.
Lactuca virosa
Tagetes lucida - MHNT Tagetes lucida is a half-hardy sub-shrub native to Mexico and Central America . It is eaten as an herb and is commonly used as a substitute for tarragon . The leaves have a tarragon-like flavor, with hints of anise .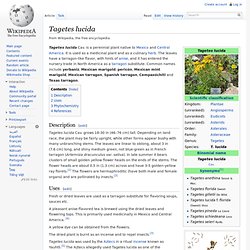 Tagetes lucida
Artemisia vulgaris
Artemisia vulgaris ( mugwort or common wormwood ) is one of several species in the genus Artemisia commonly known as mugwort , although Artemisia vulgaris is the species most often called mugwort. This species is also occasionally known as felon herb, chrysanthemum weed, wild wormwood, old Uncle Henry, sailor's tobacco, naughty man, old man or St. John's plant (not to be confused with St John's wort ). [ 1 ] Mugworts are used medicinally and as culinary herbs. It is native to temperate Europe, Asia, northern Africa and Alaska and is naturalized in North America, [ 2 ] where some consider it an invasive weed. It is a very common plant growing on nitrogenous soils, like weedy and uncultivated areas, such as waste places and roadsides. It is a tall herbaceous perennial plant growing 1–2 m (rarely 2.5 m) tall, with a woody root.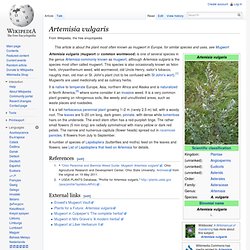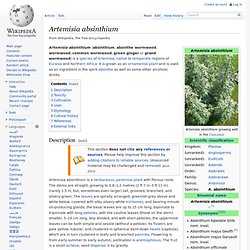 Artemisia absinthium
Artemisia absinthium ( absinthium , absinthe wormwood , wormwood , common wormwood , green ginger or grand wormwood ) is a species of Artemisia , native to temperate regions of Eurasia and northern Africa. It is a herbaceous , perennial plant with fibrous roots. The stems are straight, growing to 0.8–1.2 metres (2 ft 7 in–3 ft 10 in) (rarely 1.5 m, but, sometimes even larger) tall, grooved, branched, and silvery-green.
the-absinthe-drinker-viktor-oliva-1861-1928.jpg (JPEG Image, 636x480 pixels)
Illustration of a tansy Tansy ( Tanacetum vulgare ) is a perennial , herbaceous flowering plant of the aster family, native to temperate Europe and Asia . It has been introduced to other parts of the world and in some areas has become invasive .
Tansy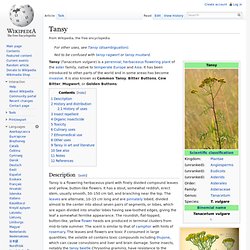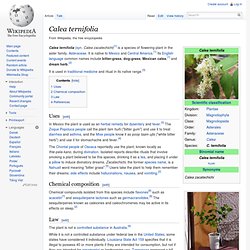 Calea ternifolia , also known as Calea zacatechichi , Dream Herb , Leaf of God , and Bitter Grass , is a plant used by the indigenous Chontal of the Mexican state of Oaxaca for oneiromancy (a form of divination based on dreams .) The plant naturally occurs from southern Mexico to northern Costa Rica. There are currently two reported varieties, one being extremely bitter and the other non-bitter.