Psychology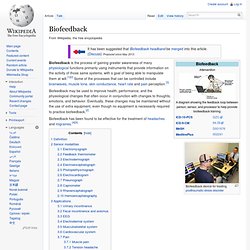 Biofeedback is the process of gaining greater awareness of many physiological functions primarily using instruments that provide information on the activity of those same systems, with a goal of being able to manipulate them at will. [ 1 ] [ 2 ] Some of the processes that can be controlled include brainwaves , muscle tone , skin conductance , heart rate and pain perception. [ 3 ] Biofeedback may be used to improve health, performance, and the physiological changes which often occur in conjunction with changes to thoughts, emotions, and behavior.
Biofeedback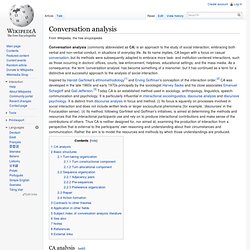 Conversation analysis
Conversation analysis (commonly abbreviated as CA ) is an approach to the study of social interaction, embracing both verbal and non-verbal conduct, in situations of everyday life.
Introspection
Introspection is examination of one's own conscious thoughts and feelings . [ 1 ] In psychology the process of introspection relies exclusively on observation of one's mental state , while in a spiritual context it may refer to the examination of one's soul .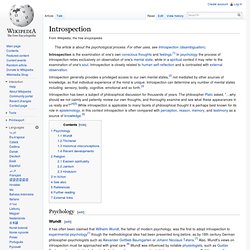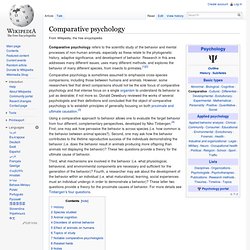 Comparative psychology refers to the scientific study of the behavior and mental processes of non-human animals, especially as these relate to the phylogenetic history, adaptive significance, and development of behavior.
Comparative psychology
Cognitive neuroscience is an academic field concerned with the scientific study of biological substrates underlying cognition , [ 1 ] with a specific focus on the neural substrates of mental processes. It addresses the questions of how psychological/cognitive functions are produced by the brain.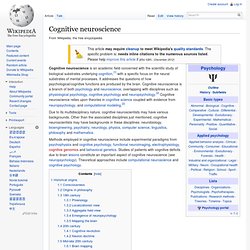 Cognitive psychology is the study of mental processes . The American Psychological Association defines cognitive psychology as "The study of higher mental processes such as attention , language use, memory , perception , problem solving, and thinking ." [ 1 ] Much of the work derived from cognitive psychology has been integrated into various other modern disciplines of psychological study including social psychology , personality psychology , abnormal psychology , developmental psychology , and educational psychology .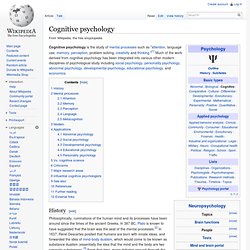 Cognitive psychology
Psychodynamics
Psychodynamics is the theory and systematic study of the psychological forces that underlie human behaviour. It is especially interested in the dynamic relations between conscious motivation and unconscious motivation. [ 1 ] Sigmund Freud (1856–1939) developed what he called psychodynamics to describe the processes of the mind as flows of psychological energy ( Libido ) in an organically complex brain . [ 2 ]