Psychology, Education, Creativity
Collection of research, reports, and new information in the fields of Psychology, Education, and Creativity
Tim Brown on creativity and play. Gever Tulley on 5 dangerous things for kids. Six Habits of Highly Empathic People. If you think you're hearing the word "empathy" everywhere, you're right.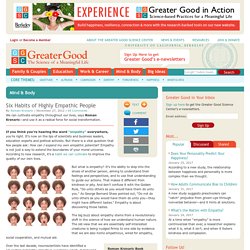 It's now on the lips of scientists and business leaders, education experts and political activists. But there is a vital question that few people ask: How can I expand my own empathic potential? Examining Technology Use, Diversity & Equity at the Digital Edge. As a leading ethnographer, lecturer, and author, S.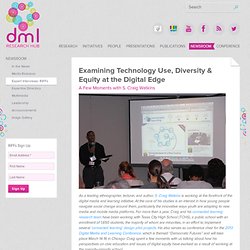 Craig Watkins is working at the forefront of the digital media and learning initiative. At the core of his studies is an interest in how young people navigate social change around them, particularly the innovative ways youth are adapting to new media and mobile media platforms. For more than a year, Craig and his connected learning research team have been working with Texas City High School (TCHS), a public school with an enrollment of 1,650 students, the majority of whom are minorities, in an effort to implement several 'connected learning' design pilot projects.
He also serves as conference chair for the 2013 Digital Media and Learning Conference, which is themed "Democratic Futures" and will take place March 14-16 in Chicago. Craig spent a few moments with us talking about how his perspectives on civic education and issues of digital equity have evolved as a result of working at the majority-minority school. Reframing Ethics in a Digital World. As the John H. and Elisabeth A.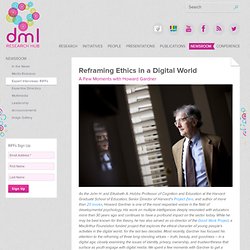 Hobbs Professor of Cognition and Education at the Harvard Graduate School of Education, Senior Director of Harvard's Project Zero, and author of more than 20 books, Howard Gardner is one of the most respected voices in the field of developmental psychology. His work on multiple intelligences deeply resonated with educators more than 30 years ago and continues to have a profound impact on the sector today. While he may be best known for this theory, he has also served as co-director of the Good Work Project, a MacArthur Foundation funded project that explores the ethical character of young people's activities in the digital world, for the last two decades.
Most recently, Gardner has focused his attention to the reframing of three long-standing virtues – truth, beauty, and goodness – in a digital age, closely examining the issues of identity, privacy, ownership, and trustworthiness that surface as youth engage with digital media. Becoming Multi-Lingual Using The Breckenridge Enneagram. We live in the three-pound universe between our ears, but it's surprising how little most people know about themselves.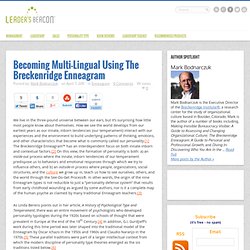 How we see the world develops from our earliest years as our innate, inborn tendencies (our temperament) interact with our experiences and the environment to build underlying patterns of thinking, emotions, and other characteristics that become what is commonly called our personality.[1] The Breckenridge Enneagram™ has an interdependent focus on both innate-inborn and contextual factors.[2] On this view, the formation of personality is both: a) an inside-out process where the innate, inborn tendencies of our temperament predispose us to behaviors and emotional responses through which we try to influence others, and b) an outside-in process where people, organizations, social structures, and the culture we grow up in, teach us how to see ourselves, others, and the world through the See-Do-Get Process®.
Elisha Goldstein, Ph.D.: The Science Behind Why What We Do Matters. Life is full of actions and reactions.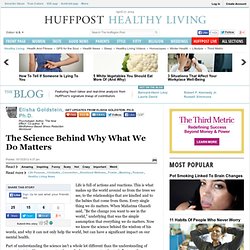 This is what makes up the world around us from the trees we see, to the relationships that are kindled and to the babies that come from them. Every single thing we do matters. When Mahatma Ghandi said, "Be the change you want to see in the world," underlying that was the simple assumption that everything we do matters. Now we know the science behind the wisdom of his words, and why it can not only help the world, but can have a significant impact on our mental health.
How to Let Your Purpose Find You - Umair Haque. Here's a question. Why are you (really) here? Aloha: If there's a single lament-slash-question I get most often — and most pointedly — lately, it goes something like this: "Listen, Deepak Kafka. I've read your stuff about living a meaningful life; I've followed your advice; I've even spent long evenings at dive bars, just like you recommend. But what the blazes do I do with mine? INFLUENCERS FULL VERSION (ES) Will Wright makes toys that make worlds.
Psych Publications. Brené Brown: The power of vulnerability. Brené Brown: Listening to shame. I Want to Be Happier! What Should I Read? This week, I'm starting this post with a question that I would like readers to answer.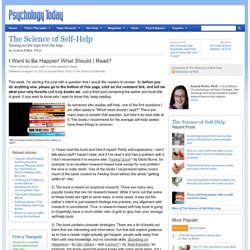 So . Just a brief post containing the author and book title is great. If you want to know I want to know this, keep reading. With so many books to choose from, where to start? Amy Tan on creativity. Back to School and Back to Anxiety Part I. Every year when the air starts to turn crisp and colder and I start seeing back to school commercials on TV, I have the same nightmare.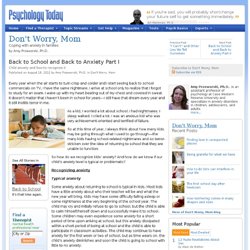 I arrive at school only to realize that I forgot to study for an exam. I wake up with my heart beating out of my chest and covered in sweat. It doesn't matter that I haven't been in school for years-- I still have that dream every year and it still instills terror in me. As a kid, I worried a lot about school.
Matt Ridley: When ideas have sex. Elizabeth Gilbert on nurturing creativity. Ken Robinson says schools kill creativity. Sir Ken Robinson: Bring on the learning revolution!
Bodycard 0357
---