En inglés
UNESCO Working Paper Series on Mobile Learning: Latin America. Mark West These Working Papers are part of a UNESCO Series , introduced on EduTechDebate here , and examine mobile learning in Latin America.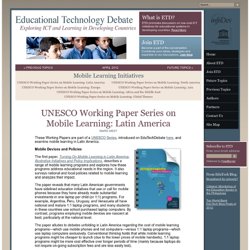 Mobile Devices and Policies. Learning Objects: Resources For Distance Education Worldwide | Downes. Stephen Downes Abstract This article discusses the topic of learning objects in three parts.
First, it identifies a need for learning objects and describes their essential components based on this need. Second, drawing on concepts from recent developments in computer science, it describes learning objects from a theoretical perspective. A Model of Learning Objectives. A statement of a learning objective contains a verb (an action) and an object (usually a noun).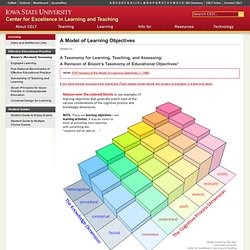 The verb generally refers to [actions associated with] the intended cognitive process. The object generally describes the knowledge students are expected to acquire or construct. Idbdocs.iadb.org/wsdocs/getdocument.aspx?docnum=35554298. Project Portfolio | Recent Projects by Release Date. Static.googleusercontent.com/external_content/untrusted_dlcp/www.google.com/en//educators/learning_materials/WR_cribsheet. Horizon report 2011 (resumen español): Tecnología, tendencias en conocimiento durante los próximos años. Os dejo la novena edición del Informe Horizon Internacional, tradicional diagnóstico y pronóstico del uso de tecnologías y tendencias educativas de futuro, liderado por el New Media Consortium y Educause y en el que tengo el honor de haber participado este año 2011.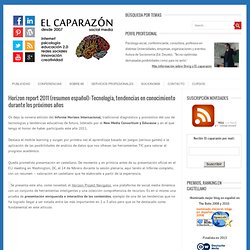 Destaca el mobile learning y surgen por primera vez el aprendizaje basado en juegos (serious games) o la aplicación de las posibilidades de análisis de datos que nos ofrecen las herramientas TIC para valorar el progreso académico. READ Magazine: Fiction, nonfiction, and reader's theater for grades 6–10. Language Arts Grades 6–8 | 5 issues | $8.99 A compelling mix of classic and contemporary fiction and nonfiction for grades 6–8.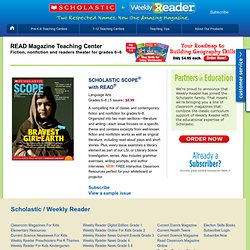 Organized into two main sections—literature and writing—each issue focuses on a specific theme and contains excerpts from well-known fiction and nonfiction works as well as original literature, including read-aloud plays and short stories. Social Networking Sites: Safety Tips for Tweens and Teens. Social networking sites, chat rooms, virtual worlds, and blogs are how teens and tweens socialize online; it's important to help your child learn how to navigate these spaces safely.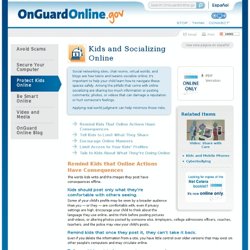 Among the pitfalls that come with online socializing are sharing too much information or posting comments, photos, or videos that can damage a reputation or hurt someone's feelings. Applying real-world judgment can help minimize those risks. Creating a Sense of Time in Online Courses. April 25, 2011 By: Todd Conaway in Online Education One of the most useful elements of online courses is that they're available anytime.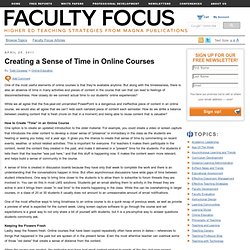 An open letter to administrators… As he says, "Don't take this open letter as us trying to tell you how to do your job.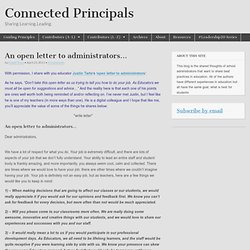 As Educators we must all be open for suggestions and advice…" And the reality here is that each one of his points are ones well worth both being reminded of and/or reflecting on. I've never met Justin, but I feel like he is one of my teachers (in more ways than one). He is a digital colleague and I hope that like me, you'll appreciate the value of some of the things he shares below: Dear administrators, Social-learning.png (644×1094) 7348974248286267995-a-1802744773732722657-s-sites.googlegroups.com/site/gtaresources/files/Crib_Apps.pdf?attachauth=ANoY7cpU2RUKf9bTX1P_wkW8x7NpnOaL_In8CApms7-M10Fg6lpHV0WjP7IbLfrHMWQgEFie4Cp2N2ez1EMu30ADllMzWShaJjwiP2iy9Y0_X7lnqjex1vlhh0R2sKEBer_uVHZgpop.
---