CNC
CO2 Laser Head Mirror and Lens Integrative Mount items in CNCOLETECH store on eBay! Corte láser, Mecanizado láser - Todos los fabricantes industriales del sector. Arduino Based GCode Interpreter For CNC Mill. Tutorial sobre Motores Paso a Paso. Tutorial sobre Motores Paso a Paso (Stepper motors) Los motores paso a paso son ideales para la construcción de mecanismos en donde se requieren movimientos muy precisos.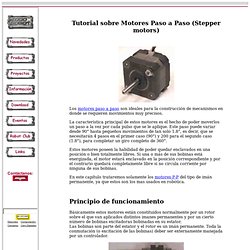 La característica principal de estos motores es el hecho de poder moverlos un paso a la vez por cada pulso que se le aplique. Este paso puede variar desde 90° hasta pequeños movimientos de tan solo 1.8°, es decir, que se necesitarán 4 pasos en el primer caso (90°) y 200 para el segundo caso (1.8°), para completar un giro completo de 360°. Estos motores poseen la habilidad de poder quedar enclavados en una posición o bien totalmente libres.
FurnLab open source CNC. Kickstarter campaign to make production local again According to Jeffrey Matthias, founder of FurnLab, precision manufacturing is something we should all have access to.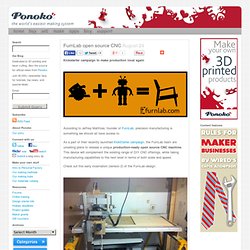 As a part of their recently launched KickStarter campaign, the FurnLab team are unveiling plans to release a unique production-ready open source CNC machine. This device will complement the existing range of DIY CNC offerings, while taking manufacturing capabilities to the next level in terms of both scale and speed. RepRapWiki. Edit is restricted to the sysop group (set from the "protect" tab)move is restricted to the sysop group (set from the "protect" tab) RepRap is humanity's first general-purpose self-replicating manufacturing machine.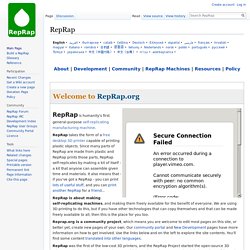 RepRap takes the form of a free desktop 3D printer capable of printing plastic objects. Since many parts of RepRap are made from plastic and RepRap prints those parts, RepRap self-replicates by making a kit of itself - a kit that anyone can assemble given time and materials. Make Your Own DIY CNC. This instructable outlines the assembly process of my 2nd generation CNC machine which I designed to be simple to build and quiet enough to be apartment friendly.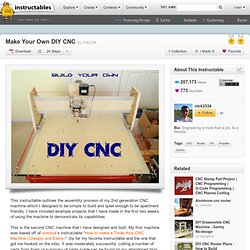 I have included example projects that I have made in the first two weeks of using the machine to demonstrate its capabilities. This is the second CNC machine that I have designed and built. My first machine was based off of oomlout's instructable "How to make a Three Axis CNC Machine (Cheaply and Easily)" (by far my favorite instructable and the one that got me hooked on the site). It was moderately successful, cutting a number of parts from foam (a summary of parts made can be found on my abandoned blog here along with some build photos). Txapu-CNC: Software. Actualmente existen varios métodos de control de sistemas libres CNC: Es un sistema linux específico para CNC, de tiempo real y preparado para controlar motores paso a paso por el puerto serie.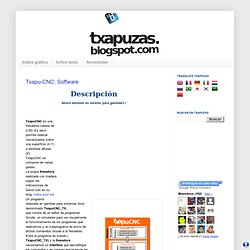 Disponible como CD-Live. Dispone del sistema de visualización y control. Es el ordenador el que realiza todas las tareas de control de los motores, y conectando en el puerto paralelo unos drivers de potencia podremos controlar los motores paso a paso.
---