Protection
"Votre planification écologique, c'est l'Île aux enfants"
INTeroperability and Automated MAPping: INTAMAP
The Blue Seals - Home
IUCN - Home
Videos - An Ocean of Truth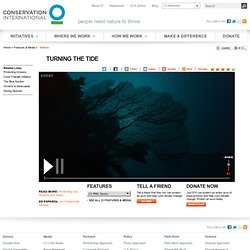 Features What does the ocean do for you? More than you know. Explore some of the most stunning, inspiring and important places on Earth, and learn why they need protection. sea turtle green coarl reefs triangle initiative seascape bird's head etps eastern tropical pacific seascape pacific atlantic indian arctic oceans species climate change adapation Turning the Tide What does the ocean do for you?
ProtectedPlanet.net - Explore Protected Areas
World Database on Protected Areas (WDPA)