Décision de la cours d'appel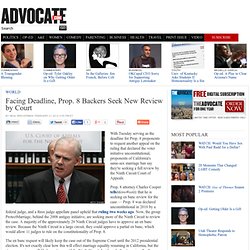 With Tuesday serving as the deadline for Prop. 8 proponents to request another appeal on the ruling that declared the voter initiative unconstitutional, proponents of California's same-sex marriage ban say they're seeking a full review by the Ninth Circuit Court of Appeals. Prop. 8 attorney Charles Cooper tells MetroWeekly that he is seeking en banc review for the case — Prop. 8 was declared unconstitutional in 2010 by a federal judge, and a three judge appellate panel upheld that ruling two weeks ago . Now, the group ProtectMarriage, behind the 2008 antigay initiative, are seeking more of the Ninth Circuit to review the case. A majority of the approximately 20 Ninth Circuit judges have to approve an en banc review. Because the Ninth Circuit is a large circuit, they could approve a partial en banc, which would allow 11 judges to rule on the constitutionality of Prop. 8. The en banc request will likely keep the case out of the Supreme Court until the 2012 presidential election.
Facing Deadline, Prop. 8 Backers Seek New Review by Court | News | The Advocate - UX
Prop. 8: Supreme Court may redefine gay rights - Aurora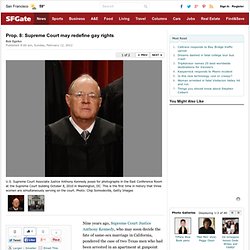 Nine years ago, Supreme Court Justice Anthony Kennedy , who may soon decide the fate of same-sex marriage in California, pondered the case of two Texas men who had been arrested in an apartment at gunpoint and charged with sodomy.
The year 2012 is shaping up as a big one for same-sex marriage. Last week, the Washington state Legislature passed a bill allowing gay marriage, and legislatures in Maryland and New Jersey may follow suit shortly (though New Jersey Gov. Chris Christie has promised a veto). North Carolina and Minnesota are conducting referendums this year on constitutional amendments to bar gay marriage, and Maine is likely to conduct a referendum on legalizing it.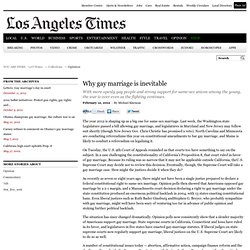 Same-sex marriage: It's inevitable - latimes.com - Aurora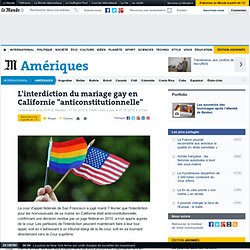 La cour d'appel fédérale de San Francisco a jugé mardi 7 février que l'interdiction pour les homosexuels de se marier en Californie était anticonstitutionnelle, confirmant une décision rendue par un juge fédéral en 2010, a-t-on appris auprès de la cour.
L'interdiction du mariage gay en Californie "anticonstitutionnelle"
En Californie, la justice confirme le droit au mariage des homosexuels
[ NOTE: This post was expanded and updated, with the last update at 2 p.m. ]
BREAKING: Ninth Circuit Strikes Down Proposition 8 on Narrow Grounds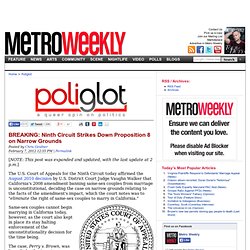 One of the lawyers fighting Proposition 8 said that today's decision of the U.S.
Olson and Boies Talk About Their Prop 8 Victory, With Slightly Differing Takes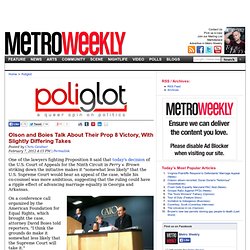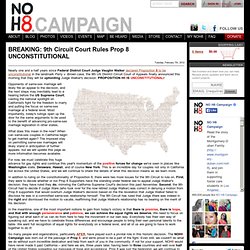 Tuesday, February 7th, 2012
BREAKING: 9th Circuit Court Rules Prop 8 UNCONSTITUTIONAL
Post Verdict Press Conference - Los Angeles February 7, 2012 7:37 PM, Post Verdict Press Conference - Los Angeles February 7, 2012 7:37 PM AmerEqualRights ... - Aurora
The Ninth Circuit will issue a much-anticipated opinion in the Prop 8 case, Perry v. Brown , tomorrow. Avid readers of Towleroad will remember that we have followed this case closely every step of the way (including here , here , here , here , here , and here ).
The Ninth Circuit's Prop 8 Ruling: What To Expect Tomorrow? (UDPATED) |Gay News|Gay Blog Towleroad - Aurora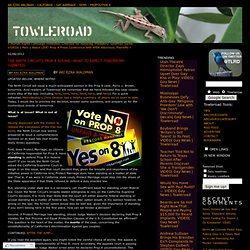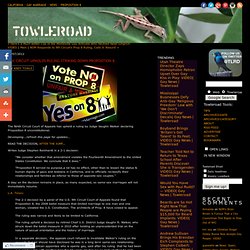 The Ninth Circuit Court of Appeals has upheld a ruling by Judge Vaughn Walker declaring Proposition 8 unconstitutional. Developing...refresh this page for updates...
9th Circuit Upholds Ruling Striking Down Proposition 8 |Gay News|Gay Blog Towleroad - Aurora
More than any single vote, more than any single veto, more than any single legislative majority, the Ninth Circuit's decision in Perry v. Brown is the most significant advancement in the fight for marriage equality in American history to date.
Proposition 8 Unconstitutional, 9th Circuit Rules: An Analysis |Gay News|Gay Blog Towleroad - Aurora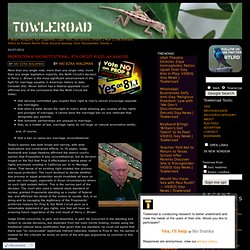 Prop. 8: Gay-marriage ban unconstitutional, court rules - latimes.com - Aurora
A federal appeals court Tuesday struck down California's ban on same-sex marriage, clearing the way for the U.S. Supreme Court to rule on gay marriage as early as next year. The 2-1 decision by a panel of the U.S. 9th Circuit Court of Appeals found that Proposition 8, the 2008 ballot measure that limited marriage to one man and one woman, violated the U.S.
La cour d'appel du 9e circuit de San Francisco a confirmé la décision du juge Vaughn Walker du 4 août 2010 : la Proposition 8 , qui a inclus dans la Constitution californienne la définition du mariage comme ne pouvant être conclu qu'entre un homme et une femme, est contraire à la Constitution des États-Unis.
Californie: Prop 8 à nouveau jugée contraire à la Constitution
Sans surprise, les partisans de Prop 8 , par la voix d'Andy Pugno, l'un des avocats de la coalition ProtectMarriage.com, ont fait savoir qu'ils contestaient la décision rendue hier , mardi 7 février, par la cour d'appel du 9e circuit de San Francisco, qui a jugé le texte contraire à la Constitution des États-Unis. Dès l'adoption du texte lors du référendum du 4 novembre 2008, il a été très clair, tant pour ses partisans que pour les opposants, que l'affaire se réglerait très probablement devant la Cour suprême des États-Unis.
Prop 8: Le procès se poursuit, les people réagissent | Yagg - Aurora
In a 2-1 vote, an appeals court panel rules that the 2008 ballot measure "serves no purpose, and has no effect, other than to lessen the status and human dignity of gays and lesbians in California, and to officially reclassify their relationships and families as inferior to those of opposite-sex couples." By ANDREW HARMON (Breana Hansen, left, and Monica Chacon kiss outside of San Francisco City Hall after hearing that Proposition 8 has been ruled unconstitutional.)
9TH CIRCUIT RULES PROP. 8 UNCONSTITUTIONAL
10-16696_Documents-1.pdf (Objet application/pdf) - Aurora
Prop. 8: The Reaction Via Tweet Is Big - Aurora
Prop. 8: The Reaction Via Tweet Is Big
AFER's Griffin, Olson Discuss What's Next For Prop. 8
Video: Ted Olson on The Rachel Maddow Show
Op-ed: Disliking Us Is No Longer a Legal Rationale  | Commentary | The Advocate