Projets StartupWeekEnd Lyon #swlyon
L'objectif est ici de suivre l'évolutions des projets qui ont été pitché et retenu lors de la 1° édition du Startup Week-End de Lyon ! titou Feb 24
Pitch du projet winker
Winker.fr | 1 wink + 1 wink = 1 link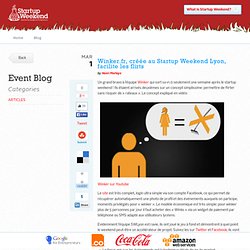 Winker.fr, créée au Startup Weekend Lyon, facilite les flirts
Un grand bravo à l'équipe Winker qui sort sa v1.0 seulement une semaine après le startup weekend ! Ils étaient arrivés deuxièmes sur un concept simplissime: permettre de flirter sans risquer de « rateaux ».
Winker.fr : Facilitateur de flirt
Winker.fr : Facilitateur de flirt | Facebook
Winker (winkerfrance) on Twitter
Pitch du projet playberhood
Playberhood-Let's play !
Playberhood | Facebook
Gamorlive.com - Plateforme communautaire de jeux pour mobile en ligne
Pitch du projet : tv never Sleep
Pitch du projet netlunch : se retrouver pour déjeuner
Pitch du projet Wais.co: aider les étudiants a partir a l'étranger
Wais.co | We are international students !
Pitch du projet Pokilist.com : créer des listes de Noël collaborative
Pitch du projet Bulle a moi: navigateur web pour enfant
3ieme prix : projet bulle a moi
Pitch du projet Tell Me The Way : inspirateur de voyage
Pitch du projet cokpit : solution de gestion de trésorerie
Campinambulle : solution d'agencement de coffres
Campinambulle - Solutions modulaires pour aménager votre coffre de voiture.
Pitch du projet artistoon: mise en relation du public et des artistes
And The winner is!!! Artistoon !!!!!!!!
Artistoon - Bientôt sur la toile
Pitch du projet idmoove: accélérateur de projet
Idmoove | Facebook
Idmoove (Idmoove) on Twitter
En construction
Startup Weekend Paris - 2ème édition, Paris Tech