Sites Anglophones
University of Southampton Open Data Service The University of Southampton provides open access to some of our administrative data. We believe that this will be of benefit to our own members and visitors, and increase the transparency of our operations. The executive summary: There's data we have which isn't in any way confidential which is of use to our members, visitors, and the public.
Open Data Home - Open Data - University of Southampton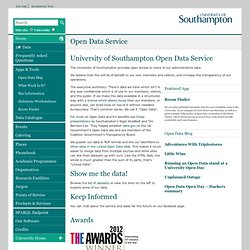 data.gov.au
A first step towards freeing London's data | London DataStore
Portail données ouvertes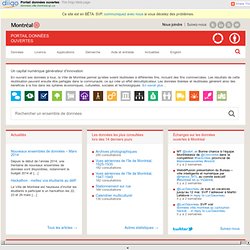 Vitrine Technologie - Education Les données sont réparties sous seize thématiques (seulement 13 au moment du lancement: Communications et relations publiques | Développement économique | Élection et référendum | Environnement (à venir) | Évaluation immobilière (à venir) | Gestion de l'information | Immeubles et terrains (à venir) | Infrastructures | Législation et affaires juridiques (à venir)| Organisation et administration | Ressources financières (à venir) | Ressources humaines (à venir) | Ressources matérielles et services (à venir) | Sécurité publique | Sports, loisirs, culture et développement social | Urbanisme et habitation open_data données_ouvertes Canada données_publiques bases_de_données
The Open University embraces the Linked Open Data Movement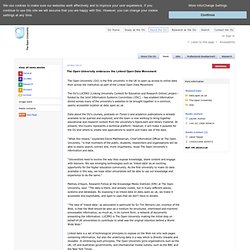 The Open University (OU) is the first university in the UK to open up access to online data from across the institution as part of the Linked Open Data Movement. The OU's LUCERO (Linking University Content for Education and Research Online) project – funded by the Joint Information Systems Committee (JISC) – has enabled information stored across many of the university's websites to be brought together in a common, openly accessible location at data.open.ac.uk. Data about the OU's courses, podcasts on iTunes U and academic publications is already available to be queried and explored, and the team is now working to bring together educational and research content from the university's OpenLearn and library material. At present, this mostly represents a technical platform. However, it will make it possible for the OU and others to create new applications to search and make use of the data.