Projects
Five Ways to Show Your Love for the Ocean. » Oceans Initiative - Science for the Sea
Whale you be my Valentine? I dolphinately will! Illustration by Leafeon via Quid Pro Quo on Tumblr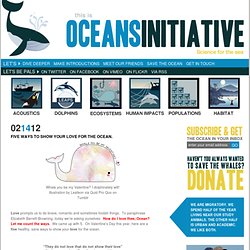 Protists | Plankton Chronicles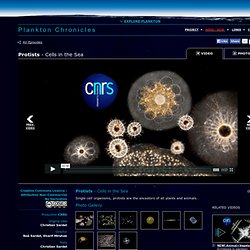 Mixed radiolarians
The ocean floor is like a rainforest where feces and dead animals rain from the sky
Home | Oceana North America
Protecting the Arctic Ocean, with Ted Danson & Oceana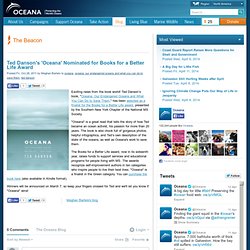 Ted Danson's 'Oceana' Nominated for Books for a Better Life Award Posted Fri, Oct 28, 2011 by Meghan Bartels to oceana, oceana: our endangered oceans and what you can do to save them, ted danson Exciting news from the book world!
Ted Danson's 'Oceana' Nominated for Books for a Better Life Award | The Beacon: Oceana's Blog
Plastic Oceans
Great Pacific Garbage Patch
Plastic Oceans Promotional Trailer - Full Length on Vimeo
The Great Pacific Garbage Patch - storify.com
NOAA National Marine Sanctuaries: Oceans, Marine Life, Shipwrecks, Diving, Whales, Voyage to Discovery
NOAA Marine Debris Program - Welcome
Estimation of debris path created with OSCURS model. The colors are years after the tsunami. Click through for more information.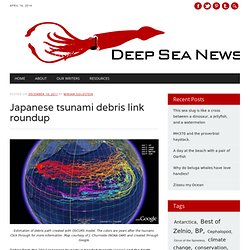 Japanese tsunami debris link roundup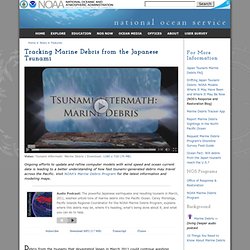 Video: Tsunami Aftermath: Marine Debris | Download: 1280 x 720 (70 MB) Ongoing efforts to update and refine computer models with wind speed and ocean current data is leading to a better understanding of how fast tsunami-generated debris may travel across the Pacific. Visit NOAA's Marine Debris Program for the latest information and modeling maps.
Tracking marine debris from Japanese tsunami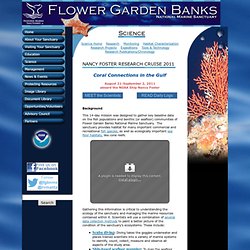 Coral Connections in the Gulf August 21-September 2, 2011 aboard the NOAA Ship Nancy Foster Background This 14-day mission was designed to gather key baseline data on the fish populations and benthic (or seafloor) communities of Flower Garden Banks National Marine Sanctuary.
Flower Garden Banks National Marine Sanctuary Nancy Foster 2011 Research Cruise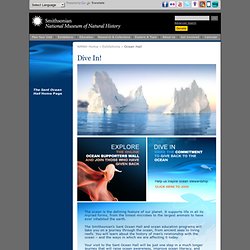 The Sant Ocean Hall - Join Us! The Sant Ocean Hall Programs at the Smithsonian National Museum of Natural History
The ocean is the defining feature of our planet.
Online Ocean Donor Wall, National Museum of Natural History, Smithsonian Institution
Eutrophication and Hypoxia
Plongée : DivoSea, portail de la plongée – infos et actus, test matériel plongée, voyage plongée
Only 29 percent of the world surface is land.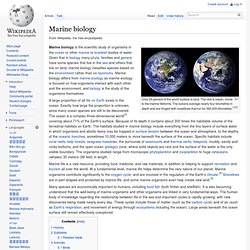 Marine biology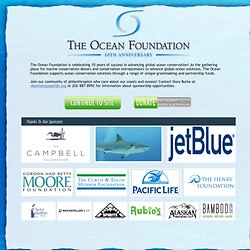 Welcome to our site!
The Ocean Foundation is celebrating 10 years of success in advancing global ocean conservation! As the gathering place for marine conservation donors and conservation entrepreneurs to advance global ocean solutions, The Ocean Foundation supports ocean conservation solutions through a range of unique grantmaking and partnership funds. Join our community of philanthropists who care about our coasts and oceans!
Home | Oceana Europe
Oceana TV (English) on Vimeo
Blue Planet Film Fest 2010 - 2011
Ocean Cities - New Earth - the holdfast
Thank You Ocean
Coral Reef Adventure
email us Call us Community-based aquaculture in the Western Indian Ocean region: towards a sustainable future for coastal ...
Marine conservation expeditions & volunteer diving expeditions,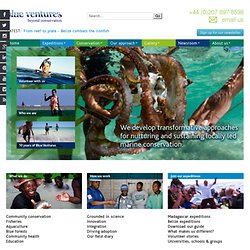 The Blue Seals - Home
OceanDoctor
1planet1ocean - Marine Conservation in Action - Home
Home | Sylvia Earle Alliance
MarineBio.org - Marine Biology, Ocean Life Conservation, Sea creatures, Biodiversity, Oceans research...
Hugh's Fish Fight - Half of all fish caught in the North Sea is thrown back overboard dead
Shark Savers - Home