Projectmanagement
Projectment management Web 2.0 style: curating sites, apps, and links to make collaboration, creativity, and efficiency work for you. komox37 Apr 28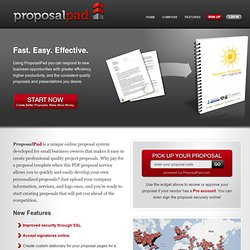 ProposalPad is a unique online proposal system developed for small business owners that makes it easy to create professional quality project proposals. Why pay for a proposal template when this PDF proposal service allows you to quickly and easily develop your own personalized proposals? Just upload your company information, services, and logo once, and you're ready to start creating proposals that will put you ahead of the competition. New Features Help Us Grow - Share ProposalPad
ProposalPad.com - PDF Proposal software | online project ...
Solutions
Simple Project Management | Sprint.Im
Stay on top of everything. On the Overview page for the project, see approaching tasks for the whole team or for each participant. The center column shows recent activity with completed and assigned tasks, comments from other members of the team and newly attached documents. A click takes you to the page where anything occurred.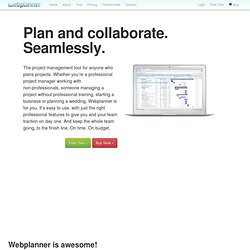 Webplanner™ - Project Management Software, Project Planning ...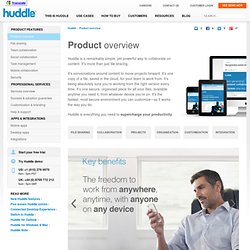 Product overview Huddle is a remarkably simple, yet powerful way to collaborate on content. It's more than just file sharing.
Work Better Together Unlock your team's potential by giving them the freedom to collaborate when and how they want—using Wiki, Forums and Chat. See What's Ahead Feeds keeps your finger on the pulse of every project.
Web-based Project Management and Collaboration Tool Online | Zoho Projects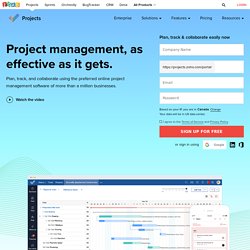 LooseStitch · Free Online Outliner · Create · Invite · Share
Konolive GTD software, Getting things done software
ProjectThingy - embeddable project and large file collaboration widget ...
A to do list maker that is free and easy-to-use
Regardless, we're not going to make your decisions for you. However, we will say that signing up only takes a really short time, and people that use the to do list maker we provide love it! And it's not done yet. We're consistently and constantly working on improving the site, and since it's web-based you'll recieve instant updates, for free.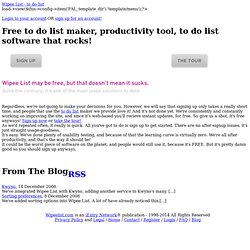 Scrumy
Welcome to Qtask
Exvo