Project-based learning
This pearl was established in order to contain possible answers to the question of right PBL application in education. strejdamarty Jun 6
Constructive & Project-based Learning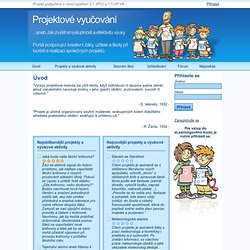 Projektové vyučování
Pro vstup do eLearningového kurzu je nutné přihlásit se. "Výrazu projektová metoda lze užíti tehdy, když individuum či skupina pojme záměr, jehož uskutečnění navozuje změny v jeho (jejich) vědění, zručnostech, zvycích či vztazích." - S. Velinský, 1932 -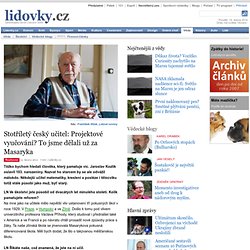 Stotříletý český učitel: Projektové vyučování? To jsme dělali už za Masaryka
LN Ve školství jste působil od dvacátých let minulého století. Kolik pamatujete reforem? Na mne jako na učitele mělo největší vliv ustanovení tří pokusných škol v roce 1929.
PBL + Edmodo = Awesome
Tagged with: Bianca HewesFeatured BloggerPBL Friday with Bianca! I find myself sitting in a lecture by philosopher David Chalmers (it's titled 'The Singularity: A Philosophical Analysis') and realise that once again I am behind in writing my weekly post for edmodo – where do the hours go?! The layout of the room (a university lecture theatre) contradicts the focus of this post. It puts me in an uncomfortable and uncertain mood. I plan (as my title suggests) to blog about a student-centred, inquiry-based style of learning that seems anathema to the arrangement of this philosophy talk.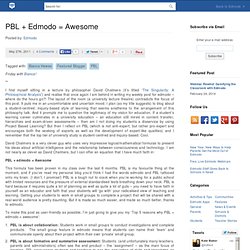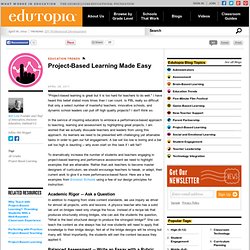 "Project-based learning is great but it is too hard for teachers to do well." I have heard this belief stated more times than I can count. Is PBL really so difficult that only a select number of masterful teachers, innovative schools, and dynamic school leaders can pull off high quality projects? I don't think so.
Project-Based Learning Made Easy
Join us for a month-long, online project-based learning workshop, facilitated Suzie Boss, Edutopia blogger and co-author of Reinventing Project-Based Learning. Participants will work together to brainstorm on the design of a project that challenges students to respond to the Gulf of Mexico oil spill. By the end of the four weeks, you will have developed a project plan, including time lines and assessments.
Announcing Edutopia's Project-Based Learning Camp | Edutopia Group Discussions by and for Educators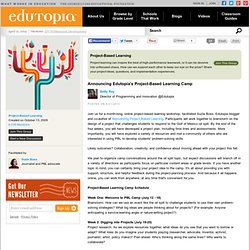 Project Based Learning Checklists