News Journals
Harvard International Review | Harvard's Premier Journal of International Affairs
We are in the process of moving and will be relaunching soon. Former CT Governor John Rowland Indicted in Campaign SchemeU.S. Attorney Says He Will Take Up Work of Corruption Panel Cuomo DisbandedTax Revenue Rockets Up, Helping Lessen the Deficit, Treasury Department Says • Democrats in races that will help determine control of the Senate are burning through campaign cash as they fend off attacks from conservative groups• Walmart Prices Would Rise By Pennies If It Paid Workers More Than Poverty Wages• Democrats Relish the Chance to Attack Republicans Over Austere Budget• Sebelius is Out, Burwell is In• UAW subpoenas Gov. Haslam, Sen.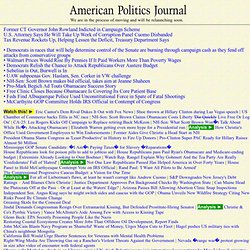 American Politics Journal - Newswire
ePluribus Media ... Home
Beats Electronics, based in Santa Monica, Calif., said equity investment giant Carlyle Group has purchased a minority share of the company for $500 million. Beats, founded by music producer Jimmy Iovine and rapper Andre Young — known as Dr. Dre — is a rapidly expanding maker of high-end headphones costing between $200 and $400.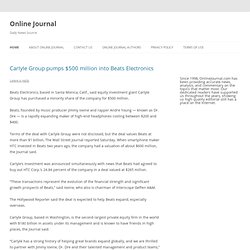 Online Journal