Minnesota Blogs
The Political Animal
This Washington Post article profiles Adam Chodikoff, The Daily Show's "investigative humorist." "Chodikoff, 37, doesn't perform on the show or write the gags that pepper Stewart's take on the day's news. But as the show's chief researcher and video wiz, he's the vital link in the program's comedic ecosystem. Chodikoff's job is to dig through the vast quarry of TV news footage to find the nuggets that form the program's pointed, often eye-opening "reporting." In a manner of speaking, he's an investigative humorist."
Blogenheimer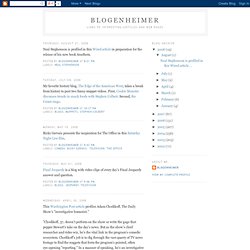 Democratic Underground - Minnesota
I Don't Hate America!
A controversy in Colorado has flushed out information about a Minnesota-based company's former ties to the American Legislative Exchange Council. The kerfuffle may be instructive to understanding the ALEC origins of some of the politics of net metering of consumer-generated solar power that we hear in Minnesota. Via PRWatch's Xcel Energy and Endo Health Cut Ties to ALEC, Making 72 Corporations Out, we learn:
Bluestem Prairie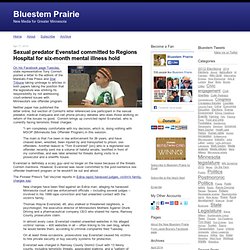 The day Washington announced a deal to end the federal government shutdown, I was at the preschool reading Green Eggs and Ham. Five times in a row. I watched the video of Sen. Ted Cruz during his grandstanding filibuster. He read the Dr. Seuss classic competently but in the manner of a man all too pleased with himself.
Across the Great Divide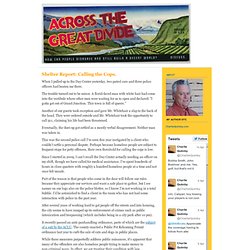 Ted Cruz asks his Facebook friends about Obamacare, gets an earful The LA Times ran the best ACA story of the day, for pure joy at the success.By Michael HiltzikMarch 31, 2014, 12:33 p.m.The Olympiad of officials and institutions reaching out to the public via social media and not hearing what they expected has a new champion: Sen. Ted Cruz (R-Texas).Back on March 24, Cruz posted an informal survey on his verified senatorial Facebook page.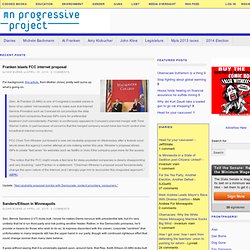 MN Progressive Project -- Community Blogging, Political Activism, and Truth in New Media
MNpublius
MNpublius was founded by Matt Martin in March of 2005, dedicated to politics in Minnesota. It grew to be one of the most influential blogs during the dawn of serious political blogging in the state and went through numerous iterations and hosted many different writers as online political discourse evolved. MNpublius was many times covering political events before the mainstream media could catch up, and housed opinion and constructive insight online that predated most of current-day social media. It was a local pioneer in a day where "citizen media," as it was called, and political blogging was in its infancy. Over time, it became a serious player in the political media cycle and had direct influence in numerous races, including significant original reporting and breaking news.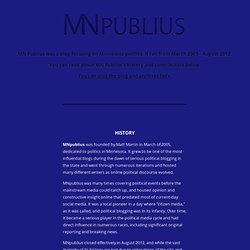 Dump Michele Bachmann
This is gonna be a long post. (the local right wing blog) when I came upon a post I found interesting. So I left a comment... and all hell began to break loose. Here is the post I found interesting: I disagreed with the post, but it was of a subject not often discussed.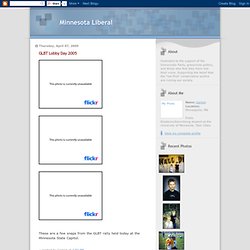 Minnesota Liberal
Liberal Blogs - Alphabetical