Progressive Toons
Some advertisers have asked about placing ads on my website, so I've signed up for BlogAds! This allows advertisers to order advertising with just three clicks. Support my site by clicking over to my blog advertising form and forwarding it to businesses who want to reach readers like you. Or, if you are interested in making money blogging
What Now Cartoons - by Keith Tucker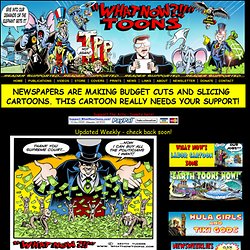 Ted Rall's Rallblog
Hey! THE WORLD OF TOMORROW is available exclusively at TopatoCo, where you'll also find a variety of fine t-shirts, plush Sparkys, and other merchandise! ALSO: please consider joining SPARKY'S LIST! READ THE LATEST CARTOON Mondays at Daily Kos and Tuesdays at The Nation!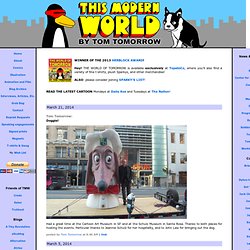 AAEC - Today's Political Cartoons
AAEC News Blog Herblock Prize eligibility expanded The Board of the Herblock Foundation just voted to include monthly newspaper and magazine publications in the eligibility for the Prize. The deadline is February 3rd. For more information, please visit http://www.herbblockfoundation.org/herblock-prize read more Published: Fri, Jan 17, 2014 08:23 PM | Author: AAEC AAEC condemns killing of Akram Raslan The AAEC condemns the killing of Syrian cartoonist Akram Raslan. read more Published: Mon, Oct 14, 2013 08:43 AM | Author: AAEC Roy Peterson, Fearless Cartoonist Vancouver Sun sketcher, and my mentor, was almost as great a journalist as he was a human being. By Bob Krieger, 2 Oct 2013, TheTyee.ca Aside from being an incredibly kind, humble, hilarious, brilliant and elegant gentleman, Roy Peterson happened to be a world class editorial cartoonist.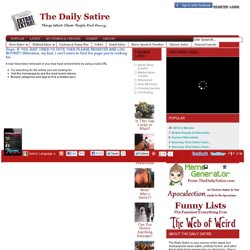 Cartoons | Popular | The Daily Satire
It may have been removed or you may have arrived here by using a bad URL Try searching for the article you are looking for. Visit the Homepage to see the most recent stories. Browse categories and tags to find a related story. The Daily Satire is your source of the latest and most popular news satire, political humor, and other things that clever people like you find funny. Take a look around, you'll find loads of cool stuff from political cartoons to spoof news, funny memes and social satire.
Daily Cartoons
Search For Cartoons Search our huge database of cartoons by topical keyword search, publication date, artist and/or location. For assistance with licensing a cartoon call (805) 969-2829.
Make You Own Cartoons - The Funny Times Cartoon Playground
The Boy With The Spyrograph Eyes is now on sale. 177 pages long with individually colored covers. Donate $20 to my Paypal account and send me an email to doogntoon at yahoo dot com to confirm your order and shipping address. For the folks asking about a digital copy, I should have that available in about a month. Every purchase comes with free bonus artwork, and the price includes shipping in the US.
Zen Comix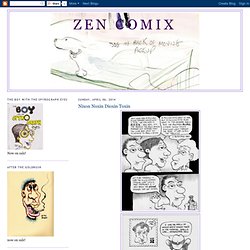 SlowpokeBlog
27 Mar/13 For current and future blog posts, please visit my new website, jensorensen.com . I haven't quite finished fleshing out the new site yet, but it's mostly-functional. Remember to update those bookmarks and RSS feeds!
Mark Fiore's Animated Cartoon Site
The Boondocks Comic Strip on GoComics