Testing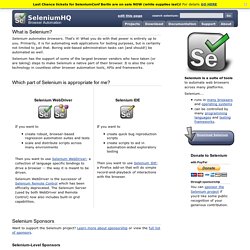 What is Selenium? Selenium automates browsers. That's it! What you do with that power is entirely up to you. Primarily, it is for automating web applications for testing purposes, but is certainly not limited to just that.
TestNG Now available Click for more details. Cédric Beust (cedric at beust.com) Current version: 6.8.1 Created: April 27th, 2004 Last Modified: March 30th, 2013 TestNG is a testing framework inspired from JUnit and NUnit but introducing some new functionalities that make it more powerful and easier to use, such as: Annotations.

Browsershots makes screenshots of your web design in different operating systems and browsers. It is a free open-source online web application providing developers a convenient way to test their website's browser compatibility in one place. When you submit your web address, it will be added to the job queue.