Python
Get flash to fully experience Pearltrees
In the 4.4 release of Qt bindings to WebKit have been added. WebKit is a web page rendering engine, that is used in Safari and Google Chrome. Qt bindings are also available in PyQt and in other languages.
Computing Thoughts Decorators I: Introduction to Python Decorators by Bruce Eckel October 18, 2008 Summary This amazing feature appeared in the language almost apologetically and with concern that it might not be that useful.
Python lists have a built-in sort() method that modifies the list in-place and a sorted() built-in function that builds a new sorted list from an iterable.
Boudewijn Rempt Copyright © 2001 by Commandprompt, Inc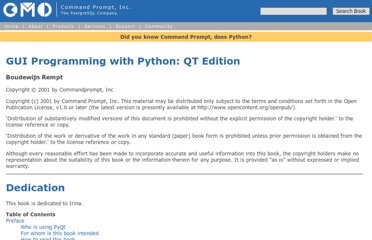 Defines descriptors, summarizes the protocol, and shows how descriptors are called. Examines a custom descriptor and several built-in python descriptors including functions, properties, static methods, and class methods.
This is a short tutorial to get you up to speed with PyQt .