Physics
The prototype Crayon Physics (Windows) from Kloonigames is part of Petri Purho's ongoing experiment to create games in less than a week to test new ideas. Crayon Physics is one part Armadillo Run, one part Line Rider and tasks you with guiding a ball through a handful of stages by drawing shapes with a crayon-like cursor. Because of its rapid development time, Crayon Physics is a bit rough around the edges. But this downloadable title is stuffed with creativity and shows that with a good idea, anything is possible.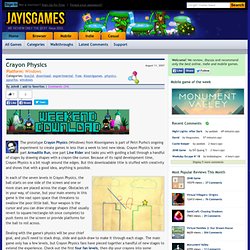 Crayon Physics: walkthrough, review, discussion, hints and tips at Jay is Games
Physics of Racing Series - Car Racing Game Physics
Cavendish experiment - Wikipedia, the free encyclopedia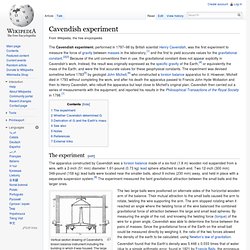 The Cavendish experiment, performed in 1797–98 by British scientist Henry Cavendish, was the first experiment to measure the force of gravity between masses in the laboratory,[1] and the first to yield accurate values for the gravitational constant.[2][3] Because of the unit conventions then in use, the gravitational constant does not appear explicitly in Cavendish's work. Instead, the result was originally expressed as the specific gravity of the Earth,[4] or equivalently the mass of the Earth; and were the first accurate values for these geophysical constants. The experiment was devised sometime before 1783[5] by geologist John Michell,[6] who constructed a torsion balance apparatus for it.
N Tutorials
Hidden Video Courses in Math, Science, and Engineering Over the last few years, a large number of open courseware directories and video lecture aggregators have popped up on the web.