S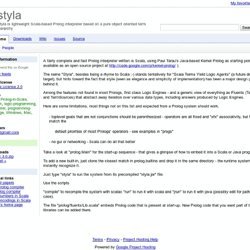 styla - Styla is lightweight Scala-based Prolog interpreter based on a pure object oriented term hierarchy
A fairly complete and fast Prolog interpreter written is Scala, using Paul Tarau's Java-based Kernel Prolog as starting point (also available as an open source project at http://code.google.com/p/kernel-prolog/ ). The name "Styla", besides being a rhyme to Scala :-) stands tentatively for "Scala Terms Yield Logic Agents" (a future development target), but hints toward the fact that style (seen as elegance and simplicity of implementation) has been a major design principle behind it. Among the features not found in most Prologs, first class Logic Engines - and a generic view of everything as Fluents (TermSinks and TermSources) that abstract away iteration over various data types, including answers produced by Logic Engines. Here are some limitations, most things not on this list and expected from a Prolog system should work. - toplevel goals that are not conjunctions should be parenthesized - operators are all fixed and "xfx" associativity, but they match the
Subtle Programming Language
Squirrel - The Programming Language
speechlang.org
Solid: the language for smart web development
Slim - A Fast, Lightweight Template Engine for Ruby
sketch-lang.org
Home · bendmorris/scotch Wiki
The Salmon Programming Language Home
S-Lang Library Information Page
Solfix
Scriptster - Home
Shiny
SNOBOL4.ORG: SNOBOL4 Resources
The Salmon Programming Language Home
Squirrel - The Programming Language
StreamIt
Suneido
Seed7 Homepage
SC
Slime Programming Language - Browse Files at SourceForge
Supernova Programming Language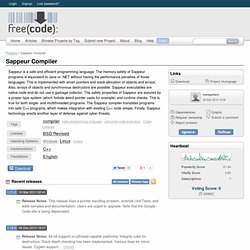 Release Notes: This release fixes a pointer handling problem, extends Unit Tests, and adds samples and documentation. Users are urged to upgrade. Note that the Google Code site is being deprecated. Release Notes: 64-bit support on pthread-capable platforms. Integrity rules for destructors.
Sappeur Compiler
scato - Programming language. Designed to plot fractals (IFS), L-systems, and other self-similar curves, and not just their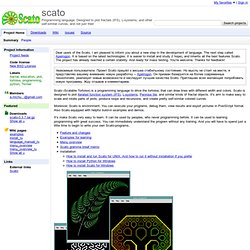 Scato (Scalable Tortoise) is a programming language to drive the tortoise, that can draw lines with different width and colors. Scato is designed to plot iterated function system (IFS), L-systems, Penrose tile, and similar kinds of fractal objects. It's arm to make easy to scale and rotate parts of plots, produce loops and recursions, and create pretty self-similar colored curves. Moreover, Scato is environment.
SPL
Stackr Programming Language
Slanx 2.0: C#/XML-based programming language
Spec#
Scriptster
Francisco Rosales, home page
SheerPower 4GL Home Page
After a long period of neglect, I'm finally getting around to turning this into a presentable webpage. Over the next few days, I'll be adding the projects that were previously available here plus a few more... By reading this webpage, you hereby agree to the terms and conditions of our Standard Disclaimer . Sigil Sigil is an interpretted, object-oriented programming language.
Guy T. Rice At Large
My Software Projects
These projects are the software I wrote (in whole or in part) over the years. They are no longer being maintained, but feel free to work on them if you want. Most are provided under the GPL license. See the individual package for specifics.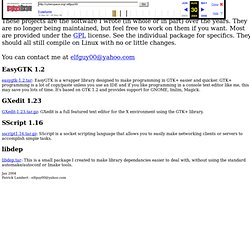 Suneido
The programming language squirrel
The Slate Programming Language
Sirius Programming Language
S-Lang Library Information Page
Home]
Single Assignment C -- High Productivity meets High-Performance SaC is an array programming language predominantly suited for application areas such as numerically intensive applications and signal processing. Its distinctive feature is that it combines high-level program specifications with runtime efficiency similar to that of hand-optimized low-level specifications. Key to the optimization process that facilitates these runtimes is the underlying functional model which also constitutes the basis for implicit parallelization. This makes SaC ideally suited for harnessing the full potential of modern Chip Multiprocessor Architectures.
Cat's Eye Technologies: /projects/smith/
SISC - Second Interpreter of Scheme Code
Machine Independant SMAL The machine independant SMAL assembler and linker supports conditional and macro assembly and all linkage editing operations commonly associated with languages such as FORTRAN and C. It comes with a user's manual that also explains how to customize it to support a variety of machine instruction sets. There are three versions, two written in fairly portable Pascal and one in C.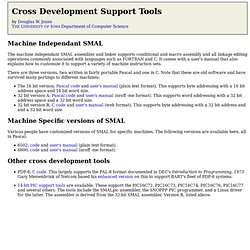 Douglas Jones's cross-development support tool index
simple pseudo assemble
SPARCL Home, 03-05-28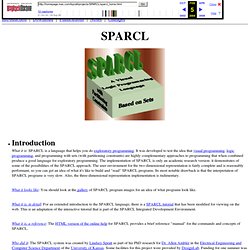 Exploratory programming.Exploratory programming is useful when you have a complex, poorly-understood problem. It is the technique where the process of programming a solution to that problem is an essential part of the process of developing an understanding of the problem. The programming process helps in several ways: it requires you to precisely characterize your understanding of the problem (in order that you can create a program at all); reviewing the program representation deepens your understanding and exposes misunderstandings: examining the program behavior (by executing the program in various "test" versions of the problem) both in terms of the results of the execution of the program and the trace of that execution helps develop insight into otherwise obscure relationships among the parts of your solution.This is something like prototype-oriented software development.
CSNOBOL4
Simple Instruction Language | Free Development software downloads at SourceForge
SPARK
The SR Programming Language
STOICAL - STack Oriented Interactive Compiler Adapted to Linux
Sather home page
Sather is an object oriented language designed to be simple, efficient, safe, flexible and non-proprietary. One way of placing it in the "space of languages" is to say that it aims to be as efficient as C, C++, or Fortran, as elegant as and safer than Eiffel, and support higher-order functions and iteration abstraction as well as Common Lisp, CLU or Scheme. Note: Sather has now been converted to the GPL/LGPL licence. This last release from ICSI is available here .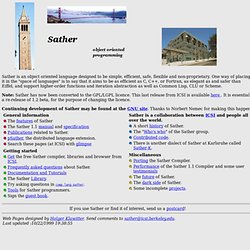 www.ftgsoftware.com/manuals/basic32.pdf
Sesame Database Manager
The Scriptol programming language and development tools
ScriptBasic the ultimate scripting tool
SCAR Divi - Shite Compared to AutoRune by Kaitnieks and Freddy1990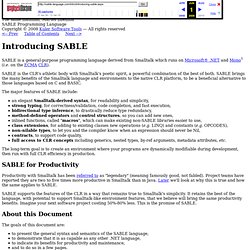 SABLE is a general-purpose programming language derived from Smalltalk which runs on Microsoft® .NET and Mono1 (i.e. on the ECMA CLR). SABLE is the CLR's athletic body with Smalltalk's poetic spirit, a powerful combination of the best of both. SABLE brings the many benefits of the Smalltalk language and environments to the native CLR platform, to be a beneficial alternative to those languages based on C and BASIC. The major features of SABLE include: an elegant Smalltalk-derived syntax, for readability and simplicity, strong typing, for correctness/validation, code completion, and fast execution, bidirectional type inference, to drastically reduce type redundancy, method-defined operators and control structures, so you can add new ones, inlined functions, called "macros", which can make existing non-SABLE libraries easier to use, class extensions, for adding to existing classes new operations (e.g.
SABLE - Introducing Sable
Motivation Developers of intelligent applications face a problem today, since none of the currently ``healthy'' languages such as C++ or Java provide adequate environments to support symbolic programming tasks. While Common-Lisp would probably still be the best language choice for many of these tasks, its dwindling vendor support and user base make it more and more difficult to justify its use. When we embarked on the task of developing PowerLoom® which had to be delivered in C++, we were faced with exactly this problem.
STELLA Programming Language
Project Summary - Spark
SMX: Server Macro Expansion
Altran Praxis : Technology : SPARK
Spider Compiler
Sim# - A Simula compiler for .Net
Cat's Eye Technologies: The Sally Programming Language
Shen Doc
Shen and Qi Shen is directly derived from Qi. Qi is a hypermodern functional language that offers many features not currently available under other functional platforms. For an introduction to Qi see www.lambdassociates.org. Qi was written solely to run under Common Lisp.
The SML.NET compiler
SML.NET is a compiler for the functional programming language Standard ML that targets the .NET Common Language Runtime and which supports language interoperability features for easy access to .NET libraries. This web site was last updated on 02-June-06. Download SML.NET is available for download in either binary or source form.
IronSapphire
IronSmalltalk
Spec#
Spec# is a formal language for API contracts (influenced by JML, AsmL, and Eiffel), which extends C# with constructs for non-null types, preconditions, postconditions, and object invariants. Spec# comes with a sound programming methodology that permits specification and reasoning about object invariants even in the presence of callbacks and multi-threading. Spec# is a research vehicle that has been used to explore specifications and the dynamic/static tools that make use of them. The Spec# programming system is a new attempt at a more cost effective way to develop and maintain high-quality software.
A fairly complete and fast Prolog interpreter written is Scala, using Paul Tarau's Java-based Kernel Prolog as starting point (also available as an open source project at http://code.google.com/p/kernel-prolog/ ). The name "Styla", besides being a rhyme to Scala :-) stands tentatively for "Scala Terms Yield Logic Agents" (a future development target), but hints toward the fact that style (seen as elegance and simplicity of implementation) has been a major design principle behind it. Among the features not found in most Prologs, first class Logic Engines - and a generic view of everything as Fluents (TermSinks and TermSources) that abstract away iteration over various data types, including answers produced by Logic Engines. Here are some limitations, most things not on this list and expected from a Prolog system should work. - toplevel goals that are not conjunctions should be parenthesized - operators are all fixed and "xfx" associativity, but they match the
styla - Styla is lightweight Scala-based Prolog interpreter based on a pure object oriented term hierarchy
The Scriptol programming language and the open source project
SOPFVM | Free Development software downloads at SourceForge
Seed7 Homepage
SWRTJ: Sugared Welterweight Record-Trait Java
sirver
Subtext home
TinyScheme Home
S: a Scripting Language for High-Performance RESTful Web Services
Shift
Soar : Home
S-Lang Library Information Page
Stackling - RPN for Mac OS X
scriptbasic
Superx++ Compiler and Runtime 1.1
Stackr Programming Language - Home
scotch-lang - The Scotch programming language
simple-interpreter - Interpreter for the Simple programming language
scratchtab - A block programming language for Tablets
Silver - Minnesota Extensible Language Tools
Scriptella
Sysel – HelenOS
The Slate Programming Language
Home — Shen
shannon - Efficient, minimalist, stream-oriented programming language
SPL - The SPL Programming Language
stab-language - A multi-paradigm programming language designed for the Java Virtual Machine
Sather - GNU Project - Free Software Foundation
SimpleScript Home Page
SparForte - PegaSoft Canada