Profils-Experts
N'est pas accessible. DIRECT2Experts. Amerouali, Youcef (1956-...) Notice de type Personne Amerouali, Youcef (1956-....)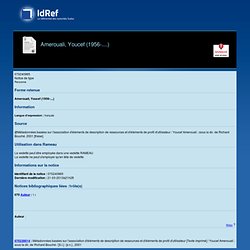 Langue d'expression : français @Métadonnées basées sur l'association d'éléments de description de ressources et d'éléments de profil d'utilisateur / Youcef Amerouali ; sous la dir. de Richard Bouché. 2001 [thèse]. La vedette peut être employée dans une vedette RAMEAU La vedette ne peut s'employer qu'en tête de vedette. European Commission: CORDIS: FP7: EMM. DeDie Datenbank des Expertenmanagementmoduls (EMM) von CORDIS steht nicht mehr zur Verfügung.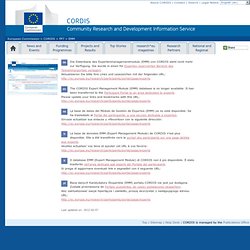 Sie wurde in einen für Experten reservierten Bereich des Teilnehmerportals verlagert. Aktualisieren Sie bitte ihre Links und Lesezeichen mit der folgenden URL: enThe CORDIS Expert Management Module (EMM) database is no longer available. It has been transferred to the Participant Portal to an area dedicated to experts. Please update your links and bookmarks with this URL: INSTEAD - profil. Nicolas Barts. IRD Nov 2010 - PresentIRD - Ingénieur en bibliométrie | Research Docteur en Sciences de l'Information et de la Communication CLEO - Revues.org Mar 2008 - Oct 2010IE - CDD | Higher Education.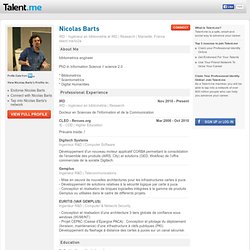 Emma bester (emmabe)'s Public Profile in the Diigo Community. Cette liste anti sioniste, qui n'a d'anti sioniste que le nom, regroupait toute une galaxie lié à l'extrême-droite : des anciens du Renouveau français (groupuscule catholique, royaliste et contre-révolutionnaire), des musulmans du Centre Zarah, une officine chiite pro-iranienne dirigée par Yahia Gouasmi, d'anciens Verts exclus du parti écologiste pour antisémitisme, des musulmans proches du FN, et Alain Soral.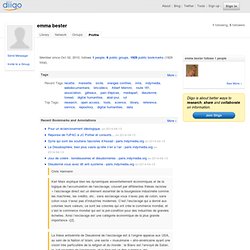 Cette liste anti sioniste ne faisait que peu de cas de la solidarité avec la cause palestinienne, en effet dans les 15 points du programme du « Parti Anti-Sioniste », les mots « Israël » ou « Palestine » sont absents. D'ailleurs de nombreuses organisations en solidarité avec la Palestine ont clairement déclaré que Dieudonné et sa clique ne servent pas la lutte de la cause palestinienne. Expert Authors. Virtual research Environments (VREs) Muriel Foulonneau | Profile - Synopsis : Nature Network. Generating educational assessment items from Linked Open Data: the case of DBpedia R.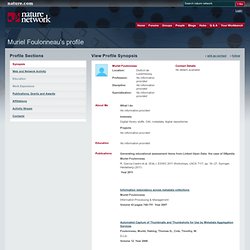 Garcia-Castro et al. (Eds.): ESWC 2011 Workshops, LNCS 7117, pp. 16--27. Springer, Heidelberg (2011) Information Processing & Management. SelectedWorks | Berkeley Electronic Press. | Economic History Services. ResearcherID.com.
Sign In. Services. Marché. Universités. Microsoft Academic Search. You can search Microsoft Academic Search for specific authors, and when data is available, search results will display a Co-Author link.
The Co-Author link will take you to the Co-Author Graph feature, which provides a visual display of the relationships between and among co-authors. To reveal details about the publications on which co-authors have collaborated, click any of the connective strands. Aardvark. Worldcat Identities. Scholar Universe - Database of scholar profiles for published academic faculty, medical researchers and scientific experts.
Plateformes des éditeurs open access
Plateformes des éditeurs commerciaux.
---