Profils-Experts
DIRECT2Experts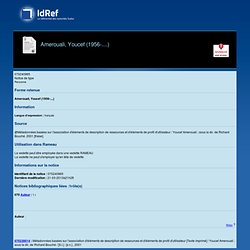 Amerouali, Youcef (1956-...)
Notice de type Personne Amerouali, Youcef (1956-....) Langue d'expression : français @Métadonnées basées sur l'association d'éléments de description de ressources et d'éléments de profil d'utilisateur / Youcef Amerouali ; sous la dir. de Richard Bouché. 2001 [thèse]. La vedette peut être employée dans une vedette RAMEAU La vedette ne peut s'employer qu'en tête de vedette
European Commission: CORDIS: FP7: EMM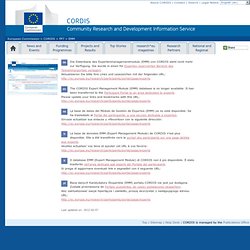 deDie Datenbank des Expertenmanagementmoduls (EMM) von CORDIS steht nicht mehr zur Verfügung. Sie wurde in einen für Experten reservierten Bereich des Teilnehmerportals verlagert.
INSTEAD - profil
IRD Nov 2010 - PresentIRD - Ingénieur en bibliométrie | Research Docteur en Sciences de l'Information et de la Communication CLEO - Revues.org Mar 2008 - Oct 2010IE - CDD | Higher Education
Nicolas Barts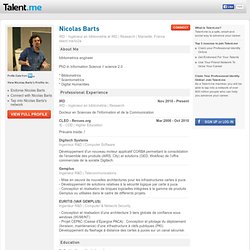 emma bester (emmabe)'s Public Profile in the Diigo Community
Expert Authors
Virtual research Environments (VREs)
Muriel Foulonneau | Profile - Synopsis : Nature Network
Generating educational assessment items from Linked Open Data: the case of DBpedia R. Garcia-Castro et al. (Eds.): ESWC 2011 Workshops, LNCS 7117, pp. 16--27. Springer, Heidelberg (2011) Information Processing & Management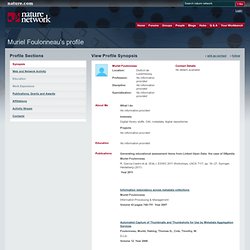 SelectedWorks | Berkeley Electronic Press
| Economic History Services
ResearcherID.com
Services profils-réseau sur AO
Sign In
Microsoft Academic Search
You can search Microsoft Academic Search for specific authors, and when data is available, search results will display a Co-Author link. The Co-Author link will take you to the Co-Author Graph feature, which provides a visual display of the relationships between and among co-authors. To reveal details about the publications on which co-authors have collaborated, click any of the connective strands.
Plateformes des éditeurs open access
Plateformes des éditeurs commerciaux