Profils-Experts
DIRECT2Experts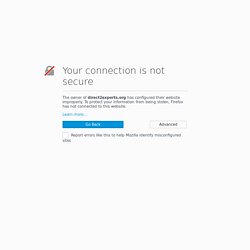 A Network for All The DIRECT2Experts network, open to all biomedical institutions, is a pilot project facilitated by the Research Networking Working Group of the NIH-supported Clinical & Translational Science Award (CTSA) Consortium. Our Goal To improve biomedical research and leverage our strengths as a community by creating a network that enables easy access to expertise and related resources across institutions regardless of local platforms and tools, and in collaboration with participating institutions to ensure access to approved and verified data. What makes DIRECT2Experts different?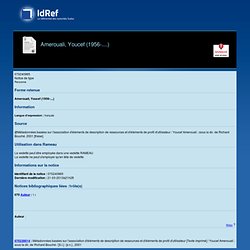 Amerouali, Youcef (1956-...)
Notice de type Personne Amerouali, Youcef (1956-....) Langue d'expression : français @Métadonnées basées sur l'association d'éléments de description de ressources et d'éléments de profil d'utilisateur / Youcef Amerouali ; sous la dir. de Richard Bouché. 2001 [thèse]. La vedette peut être employée dans une vedette RAMEAU La vedette ne peut s'employer qu'en tête de vedette
European Commission: CORDIS: FP7: EMM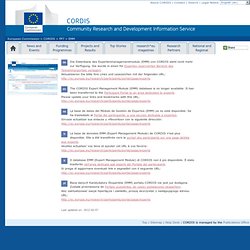 deDie Datenbank des Expertenmanagementmoduls (EMM) von CORDIS steht nicht mehr zur Verfügung. Sie wurde in einen für Experten reservierten Bereich des Teilnehmerportals verlagert. Aktualisieren Sie bitte ihre Links und Lesezeichen mit der folgenden URL:http://ec.europa.eu/research/participants/portal/page/experts enThe CORDIS Expert Management Module (EMM) database is no longer available. It has been transferred to the Participant Portal to an area dedicated to experts. Please update your links and bookmarks with this URL:http://ec.europa.eu/research/participants/portal/page/experts
INSTEAD - profil
IRD Nov 2010 - PresentIRD - Ingénieur en bibliométrie | Research Docteur en Sciences de l'Information et de la Communication CLEO - Revues.org Mar 2008 - Oct 2010IE - CDD | Higher Education
Nicolas Barts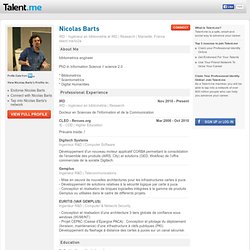 emma bester (emmabe)'s Public Profile in the Diigo Community
Expert Authors
Virtual research Environments (VREs)
Muriel Foulonneau | Profile - Synopsis : Nature Network
Generating educational assessment items from Linked Open Data: the case of DBpedia R. Garcia-Castro et al. (Eds.): ESWC 2011 Workshops, LNCS 7117, pp. 16--27. Springer, Heidelberg (2011) Information Processing & Management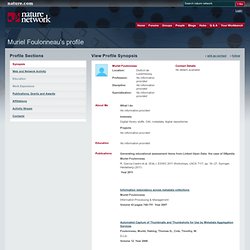 SelectedWorks | Berkeley Electronic Press
"I have been floored by the number of downloads from my SelectedWorks site and love using it to announce new work to interested friends and colleagues."— John Donohue, Leighton Homer Surbeck Professor of Law, Yale University With SelectedWorks, Authors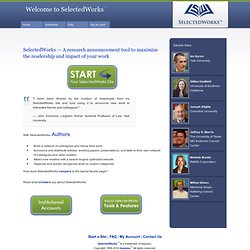 | Economic History Services
ResearcherID.com
Services profils-réseau sur AO
Sign In
Microsoft Academic Search
You can search Microsoft Academic Search for specific authors, and when data is available, search results will display a Co-Author link. The Co-Author link will take you to the Co-Author Graph feature, which provides a visual display of the relationships between and among co-authors. To reveal details about the publications on which co-authors have collaborated, click any of the connective strands.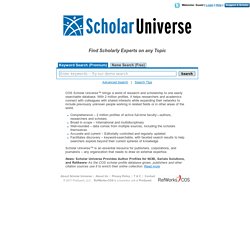 COS Scholar Universe™ brings a world of research and scholarship to one easily searchable database. With 2 million profiles, it helps researchers and academics connect with colleagues with shared interests while expanding their networks to include previously unknown people working in related fields or in other areas of the world. Comprehensive – 2 million profiles of active full-time faculty—authors, researchers and scholars Broad in scope – International and multidisciplinary Well-rounded – data comes from multiple sources, including the scholars themselves Accurate and current – Editorially controlled and regularly updated Facilitates discovery – keyword-searchable, with faceted search results to help searchers explore beyond their current spheres of knowledge
Plateformes des éditeurs open access
Plateformes des éditeurs commerciaux