Food Production, Processing and Distribution to June 2012
Can We Make Enough Food To Eat Without Cutting Down All The Trees? Brazil has pulled off an environmental coup.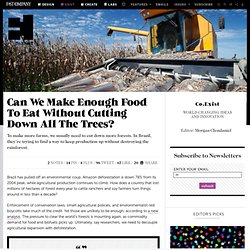 Amazon deforestation is down 78% from its 2004 peak, while agricultural production continues to climb. How does a country that lost millions of hectares of forest every year to cattle ranchers and soy farmers turn things around in less than a decade? Enforcement of conservation laws, smart agricultural policies, and environmentalist-led boycotts take much of the credit. Enter the Food Stylist. Prepare to be amazed.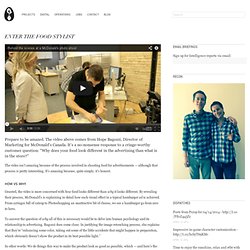 The video above comes from Hope Bagozzi, Director of Marketing for McDonald's Canada. It's a no-nonsense response to a cringe-worthy customer question: "Why does your food look different in the advertising than what is in the store?" The video isn't amazing because of the process involved in shooting food for advertisements — although that process is pretty interesting. It's amazing because, quite simply, it's honest. Reports from the Commission on Sustainable Agriculture and Climate Change. Reports Achieving Food Security in the Face of Climate Change The Commission on Sustainable Agriculture and Climate Change has reviewed the scientific evidence to identify a pathway to achieving food security in the context of climate change.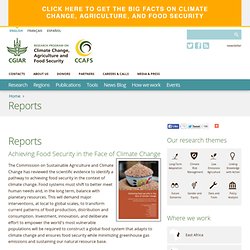 Food systems must shift to better meet human needs and, in the long term, balance with planetary resources. 2011 Global Food Policy Report. MPs call for wider food strategy. 12 May 2012Last updated at 21:47 ET MPs said obesity and diet related illness were on the increase while food security was under threat The government needs to tackle the UK's "failing food system" by linking its policies on health, environment and education, a committee of MPs has said.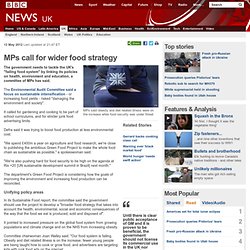 The Environmental Audit Committee said a focus on sustainable intensification - or increasing food yields - risked "damaging the environment and society". Lab Meat Would Sidestep 'Grossly Inefficient' Livestock Industry. Though human life has changed much over a few hundred thousand years, the drive to kill and eat other animals lingers on from our earliest days.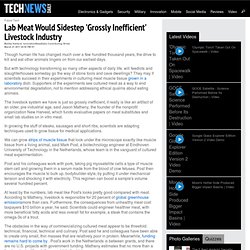 But with technology transforming so many other aspects of daily life, will feedlots and slaughterhouses someday go the way of stone tools and cave dwellings? They may if scientists succeed in their experiments in culturing meat muscle tissue grown in a laboratory dish. Food is now huffable. You know what's old news?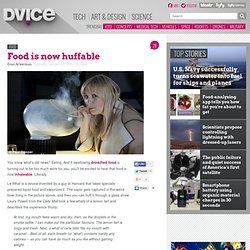 Eating. And if swallowing drinkified food is turning out to be too much work for you, you'll be excited to hear that food is now inhaleable. Literally. Le Whaf is a device invented by a guy at Harvard that takes specially prepared liquid food and vaporizes it. The vapor gets captured in the weird bowl thing in the picture above, and then you can huff it through a glass straw. Pepsi and Competitors Scramble as Soda Sales Drop. Eric Draper for The New York Times Rufina Cowboy removes weeds in the community garden near her home in Cuba, N.M.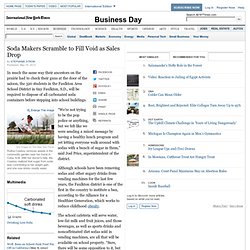 With her doctor's help, Ms. For Them, a Great Meal Tops Good Intentions. Supporting local agriculture and food traditions?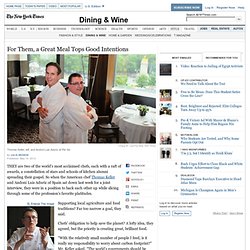 Far too narrow a goal, they said. Chefs' obligation to help save the planet? A lofty idea, they agreed, but the priority is creating great, brilliant food. "With the relatively small number of people I feed, is it really my responsibility to worry about carbon footprint?" Peter Kaminsky's Culinary Intelligence at Epicurious.
P eter Kaminsky is no stranger to good eating.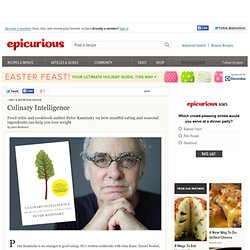 He's written cookbooks with Gray Kunz, Daniel Boulud, John Madden, and, new in May 2012, Adam Perry Lang. He worked for four years as a food critic for New York magazine and dissected the art of Argentine grilling with Francis Mallmann in the 2010 James Beard Award–winner Seven Fires. Massive Health. Top 10 food trailblazers. This story is part of AlertNet's special report "Solutions For A Hungry World" By Anastasia Moloney BOGOTA (AlertNet) - Who are the people behind grassroots movements, farming unions, groundbreaking research and government policy that are helping to stave off hunger, boost crop harvests and put more food on tables?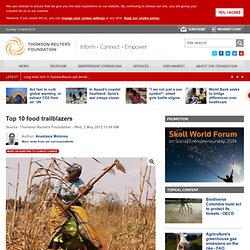 AlertNet put this question to dozens of experts and researchers from leading non-governmental organisations and research institutes involved in nutrition and agriculture. Based on their responses, in no particular order, here's our "Top 10 food trailblazers", many of whom AlertNet interviewed. 1. We'll See Your Cheeseburger Stuffed Crust Pizza and Raise You. Just when you thought the world's pizzamongers couldn't pack any more mind-boggling ingredients into a pizza crust, they did. Pizza Hut Middle East has just introduced their latest heart attack on a plate, the "Crown Crust Cheeseburger Pizza." It's actually fairly impressive. Pizza Hut's Crown Crust Pizza. In an apparent on-going effort to fatten up the rest of the world American-style, Pizza Hut — which just released a pizza with hot dogs stuffed inside the crust in the UK — is now offering a cheeseburger crust pizza in the Middle East. Yes, this culinary abomination — called the "Crown Crust Pizza" — is no joke, and it has an equally appalling companion: a chicken nugget crust pizza.
No wonder the Middle East hates America. Reports Eater: For starters, you have your choice of not one but two separate junk food items to have shoved into your pizza crust: cheeseburgers or chicken fillets.Secondly, the toppings on the main part of the pizza are themed with the crust — so burger toppings on the cheeseburger crust, complete with special sauce, and barbecue sauce and green peppers on the chicken one. What Pizza Hut's Crown Crust Pizza Says About Global Fast Food Marketing : The Salt. Perhaps you've heard by now of the Crown Crust pizza, the pizza-cheeseburger hybrid recently unveiled by some of Pizza Hut's international franchisees. Available only at Pizza Hut Middle East, this fast food chimera features a vaguely crown-shaped crust studded with "cheeseburger gems," topped with lettuce and tomato, and drizzled with "special sauce.
" Many foodies have decried it as a "culinary abomination," "a sign of the apocalypse," or proof that America is finally losing its monopoly on gluttony. A reviewer at Serious Eats, who tried the Crown Crust in Dubai, wrote: "There seems to be no rational explanation as to why this pizza was created. " But Leila Hudson, director of Middle Eastern and North African Studies at the University of Arizona, and a restaurateur herself, says the Crown Crust probably looks a lot less bizarre to Middle Eastern consumers than it does to us. Links for the First Half of May. The U.S.D.A. has introduced new nutrition labeling. June 11, 2012 | Updated Here is a video detailing the U.S.D.A.'s new nutrition labels for meat and poultry.
It's a nice thing to know how many calories, for instance, are in our meat; it would be much nicer to know how many chemicals or antibiotics are in there as well. If information about a product would deter any significant number of people from buying it, then the U.S.D.A. probably isn't going to put in on the package. Bad for health, good for business. A rooftop fish farm for every family? It may look nothing more than an oddly shaped greenhouse, but the 'Globe (hedron)' is a concept for a rooftop aquaponics dome that Urban Farmers hopes will help address global food security Image Gallery (11 images) It may look nothing more than an oddly shaped greenhouse, but the "Globe (hedron)", a collaboration by food futurists Urban Farmers AG and and designer Antonio Scarponi of Conceptual Devices, is a concept for a self-contained rooftop aquaponics dome that its designers hope will help address global food security.
The company is seeking funding to turn the concept into a prototype. View all. What's for dinner? Just check the spectrometer. Catering to Caviar Tastes From an Unexpected Place. Earth to Portlandia: Backyard Goats and Chickens Filling Up Animal Sanctuaries | FarmPlate. Food Deserts Not to Blame for Obesity and Poor Nutrition. UPDATE February 2012 — The Food Crises: Predictive validation of a quantitative model of food prices including speculators and ethanol conversion. In Hawaii, 40-square-miles and many tough choices. Wendell Berry Quotes (Author of Jayber Crow) Urban Farming. Can Coffee Kick-Start an Economy? How to design more resilient, food producing systems (without money and fossil fuels) Regional food analysis. Indian Engineers Build A Stronger Society With School Lunch Program : The Salt.
Capsule removes radioactive substances from beverages. Bees' Decline Linked to Pesticides, Studies Find. Bluetooth-enabled magnet orders pizza at the push of a button. » Future food for thought. Scottish Salmon start seaweed trials - News. About « Fruit City. Calories to be cut by major food and drink companies. Budget 2012: Cornish pasty price rise fears. Huge shift in what we eat. Future_of_food_report_2011_lr.
---