Food Production, Processing and Distribution to June 2012
Brazil has pulled off an environmental coup.
Can We Make Enough Food To Eat Without Cutting Down All The Trees?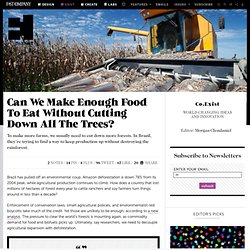 Enter the Food Stylist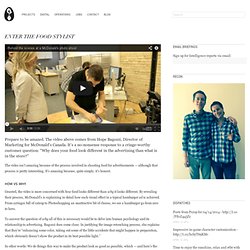 Prepare to be amazed.
Reports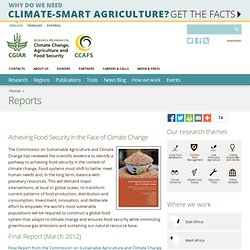 Reports from the Commission on Sustainable Agriculture and Climate Change
2011 Global Food Policy Report
MPs call for wider food strategy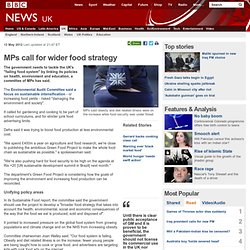 12 May 2012Last updated at 21:47 ET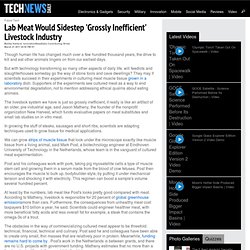 Though human life has changed much over a few hundred thousand years, the drive to kill and eat other animals lingers on from our earliest days. But with technology transforming so many other aspects of daily life, will feedlots and slaughterhouses someday go the way of stone tools and cave dwellings? They may if scientists succeed in their experiments in culturing meat muscle tissue grown in a laboratory dish.
Lab Meat Would Sidestep 'Grossly Inefficient' Livestock Industry
You know what's old news? Eating.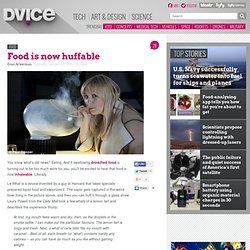 Food is now huffable
Eric Draper for The New York Times Rufina Cowboy removes weeds in the community garden near her home in Cuba, N.M. With her doctor's help, Ms.
Pepsi and Competitors Scramble as Soda Sales Drop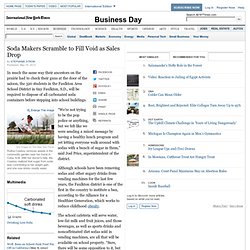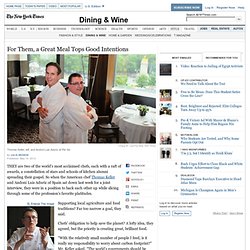 Supporting local agriculture and food traditions?
For Them, a Great Meal Tops Good Intentions
Peter Kaminsky's Culinary Intelligence at Epicurious
P eter Kaminsky is no stranger to good eating. He's written cookbooks with Gray Kunz, Daniel Boulud, John Madden, and, new in May 2012, Adam Perry Lang. He worked for four years as a food critic for New York magazine and dissected the art of Argentine grilling with Francis Mallmann in the 2010 James Beard Award–winner Seven Fires.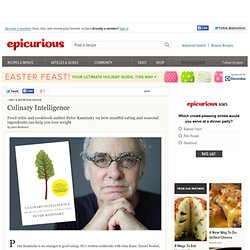 Massive Health
This story is part of AlertNet's special report "Solutions For A Hungry World" By Anastasia Moloney
Top 10 food trailblazers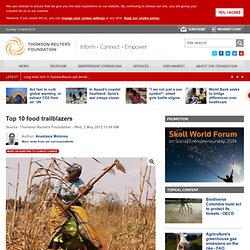 We'll See Your Cheeseburger Stuffed Crust Pizza and Raise You
Just when you thought the world's pizzamongers couldn't pack any more mind-boggling ingredients into a pizza crust, they did. Pizza Hut Middle East has just introduced their latest heart attack on a plate, the "Crown Crust Cheeseburger Pizza." It's actually fairly impressive.
Pizza Hut's Crown Crust Pizza
In an apparent on-going effort to fatten up the rest of the world American-style, Pizza Hut — which just released a pizza with hot dogs stuffed inside the crust in the UK — is now offering a cheeseburger crust pizza in the Middle East. Yes, this culinary abomination — called the "Crown Crust Pizza" — is no joke, and it has an equally appalling companion: a chicken nugget crust pizza.
Perhaps you've heard by now of the Crown Crust pizza, the pizza-cheeseburger hybrid recently unveiled by some of Pizza Hut's international franchisees.
What Pizza Hut's Crown Crust Pizza Says About Global Fast Food Marketing : The Salt
Links for the First Half of May
It may look nothing more than an oddly shaped greenhouse, but the 'Globe (hedron)' is a concept for a rooftop aquaponics dome that Urban Farmers hopes will help address global food security
A rooftop fish farm for every family?
The IPMS spectrometer could one day be integrated into smartphones (Photo: Fraunhofer IPMS)
What's for dinner? Just check the spectrometer
Catering to Caviar Tastes From an Unexpected Place
Earth to Portlandia: Backyard Goats and Chickens Filling Up Animal Sanctuaries | FarmPlate
Food Deserts Not to Blame for Obesity and Poor Nutrition
UPDATE February 2012 — The Food Crises: Predictive validation of a quantitative model of food prices including speculators and ethanol conversion | NECSI
In Hawaii, 40-square-miles and many tough choices
Wendell Berry Quotes (Author of Jayber Crow)
Urban Farming
Can Coffee Kick-Start an Economy?
How to design more resilient, food producing systems (without money and fossil fuels)
Regional food analysis
Indian Engineers Build A Stronger Society With School Lunch Program : The Salt
Capsule removes radioactive substances from beverages
Bees' Decline Linked to Pesticides, Studies Find
Bluetooth-enabled magnet orders pizza at the push of a button
» Future food for thought
Scottish Salmon start seaweed trials - News - Stornoway Gazette
About « Fruit City
Calories to be cut by major food and drink companies
Budget 2012: Cornish pasty price rise fears
Huge shift in what we eat
future_of_food_report_2011_lr