VST
Release of the iPhone game Toad's World . I made this game together with a friend. It was a hard piece of work, but i'm thinking we created a really funny little game.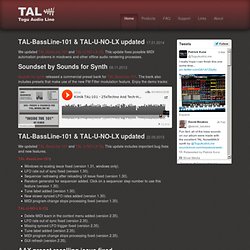 TAL- Togu Audio Line: Home
GForce Software
Andreas Ersson: Iblit
Iblit is a monophonic VST 2.3 compatible software synthesizer for PC. The oscillator waveforms are generated using BLITs (Band Limited Impulse Train) which gives oscillators with very low aliasing. Features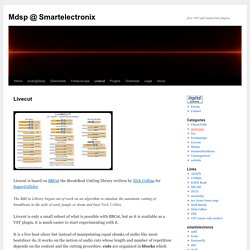 Livecut | Mdsp @ Smartelectronix
Livecut is based on BBCut the BreakBeat Cutting library written by Nick Collins for SuperCollider The BBCut Library began out of work on an algorithm to simulate the automatic cutting of breakbeats in the style of early jungle or drum and bass Nick Collins. Livecut is only a small subset of what is possible with BBCut, but as it is available as a VST plugin, it is much easier to start experimenting with it.