Method
Author Brian Solis argues that now is the time every business must go beyond price, performance or value--and focus on creating amazing customer experiences. April 02, 2013 Perhaps you're thinking of starting a new business, or a new line of business in your existing one.
The 4 Moments of Truth That Create an Unforgettable Customer Experience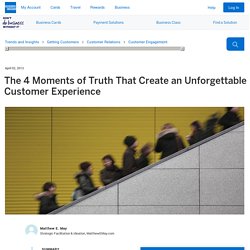 Social Research Methods and Program Evaluation Resources Basic guides These have very plain and clear descriptions of what evaluation is.