Privacy
Voler le mot de passe Facebook ou Twitter en 10 secondes. Voler le mot de passe Facebook ou Twitter en 10 secondes Publié le 22-06-2011 à 12:22:20 dans le thème Réseau - Sécurité Pays : International - Auteur : Damien Bancal Pub : Tous les logiciels anti-spam gratuits disponibles sur Internet Une méthode simple permet de voler le mot de passe d´un compte Facebook ou Twitter en quelques clics de souris.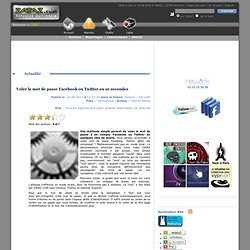 La photo qui a mis Lyon Info à l'index de Facebook. Samedi, 18 juin.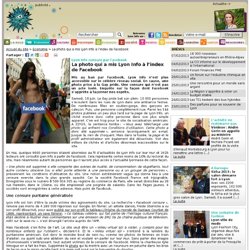 La Gay pride bat son plein. 10 000 personnes s'écoulent dans les rues de Lyon dans une ambiance festive. De nombreuses filles en soutien-gorge, des garçons en caleçon. Puis, une personne complètement nue. Parmi les 144 photos publiées un peu plus tard sur la de Lyon Info, un cliché montre donc cette personne dans son plus simple appareil. C'en est trop pour le site de socialisation américain. Peut-on savoir qui visite son profil Facebook? - Un membre d'Anonymous, Anonymous9000, Flickr, Licence by - Mise à jour du 19/04/11: Un spam circule sur Facebook depuis la mi-avril, avec une multiplication d'invitations à un évènement censé permettre de «voir qui consulte votre profil».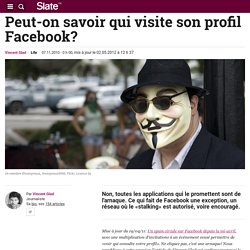 Ne cliquez pas, c'est une arnaque! Nous republions à cette occasion l'article de Vincent Glad qui explique pourquoi le concept de voir qui consulte son profil va à l'encontre même de la logique du réseau Facebook. publicité. CT Attorney General Asks Facebook About Fraud. Connecticut state Representative Kim Rose had a bad Facebook experience.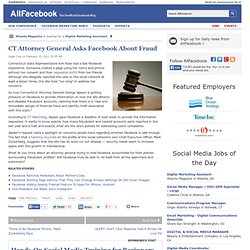 Someone created a page using her name and photos without her consent and then requested $650 from her friends. Although she allegedly reported the case to the social network at least a dozen times, the site took "too long" to address her concerns. So now Connecticut Attorney General George Jepsen is putting pressure on Facebook to provide information on how the site detects and disables fraudulent accounts, claiming that there is a "real and immediate danger of financial fraud and identity theft associated with this scam." According to CT Watchdog, Jepsen gave Facebook a deadline of next week to provide the information requested. H wants to know exactly how many fraudulent and hacked accounts were reported in the last year and a half, and exactly what are the site's policies for addressing users' complaints. Les dangers des réseaux sociaux.
Si vous avez un peu de temps ce week-end, je vous invite à visionner ce reportage initialement diffusé sur Canal Plus et extrait de Pendant plusieurs mois, le réalisateur a exploré le phénomène de la La pour ne pas avoir de mauvaises surprises dans quelques années (ou dès demain comme l'illustre l'image Facebook ci-dessus).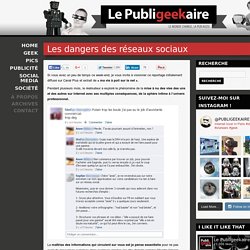 Car au final, Sources ici et ici . Vous aimerez aussi. The Evolution of Privacy on Facebook. About Facebook is a great service.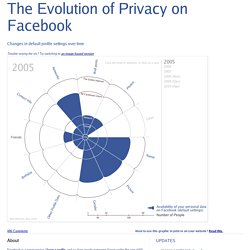 I have a profile, and so does nearly everyone I know under the age of 60. 5 Facebook profile pics that make you look like a tool. Profile pics that look like Budweiser ads -- or, say, this photo -- are probably not the best choices for your Facebook page.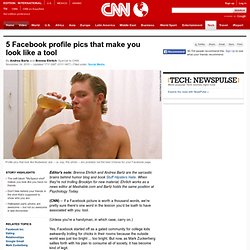 The self-taken "MySpace shot" makes you look like you have no friends Don't hide behind your friends in the shot that's supposed to show who you are Halloween party photos are awesome -- but not so awesome in late-November Editor's note: Brenna Ehrlich and Andrea Bartz are the sarcastic brains behind humor blog and book Stuff Hipsters Hate. When they're not trolling Brooklyn for new material, Ehrlich works as a news editor at Mashable.com and Bartz holds the same position at Psychology Today. Here's What Your Facebook Photo Says About You. Gawker How to Spot It: This comes in many forms: a picture of a fictional character, concert, a movie poster, a book cover, reality star, musical act, or a celebrity.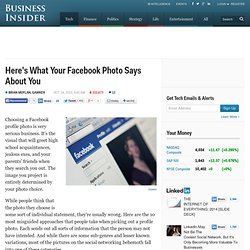 Basically it is anyone who is not the subject. Facebook, Twitter : qui êtes-vous sur les réseaux sociaux ? Un homme masqué (barkbud/Flickr). « Fuite en avant », « inconscience », « piège », « exhibitionnisme »...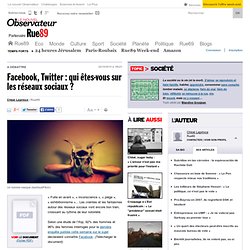 Les craintes et les fantasmes autour des réseaux sociaux vont encore bon train, croissant au rythme de leur notoriété. Selon une étude de l'Ifop, 92% des hommes et 96% des femmes interrogés pour la dernière enquête publiée cette semaine sur le sujet déclaraient connaître Facebook. Facebook Listens To Users, Brings Back "Clear Chat History" One somewhat overlooked side effect of last week's Facebook Groups launch was the inexplicable disappearance of the "Clear Chat History" button from Facebook Chat, which is currently undergoing some hardcore product changes due to the Groups introduction.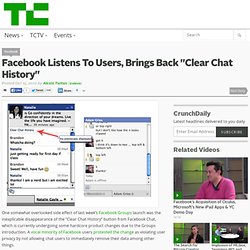 A vocal minority of Facebook users protested the change as violating user privacy by not allowing chat users to immediately remove their data among other things. A source familiar with Facebook hypothesized that the button's removal was due to load issues caused by the new reliance on Group chats, as chat data greater that 14 days would have to make a database hit, overloading the server if scaled to apply to large Groups and causing performance issues. Despite these practical concerns, Facebook responded to the user outrage today by confirming that they would return the button, with the following statement: "We've been making a number of changes to optimize and simplify Facebook Chat over the past weeks. De la naïveté des médias concernant Facebook et les données personnelles. Cette semaine nous avons encore doit à une énième polémique sur l'exploitation des données personnelles par Facebook : Facebook in Privacy Breach.
Cette polémique est la dernière d'une longue série d'articles publiés par le Wall Street Journal sur le sujet, elle dénonce la transmission de données personnelles à des sociétés de marketing par certaines applications Facebook (plus précisément : les social games de Zynga). Officiellement pour Facebook, il s'agit d'une "faille de sécurité" qui a été corrigée. How Facebook Decides What To Put In Your News Feed – These 10 Secrets Reveal All. How does the social media giant decide who and what to put in your feed?
Tom Weber conducts a one-month experiment to break the algorithm, discovering 10 of Facebook's biggest secrets. The more digital our daily lives become, the more perplexing the questions seem. Will the growth of social media destroy our notions of privacy? Is democracy helped or harmed by the cacophony of opinions online? Licenciement : Facebook n'est pas la machine à café de l'entreprise. Le Conseil des prud'hommes de Boulogne-Billancourt a estimé légal le licenciement de trois salariés de la société de conseil en informatique Alten, qui avaient critiqué leur employeur dans une page privée sur Facebook. L'Express raconte qu'ils s'étaient autoproclamés membres du "club des néfastes" sur le réseau social, après une remontrance de la direction des ressources humaines sur leur manque de discipline.
"Un de leurs collègues, connecté à ce moment-là, a lu l'échange et en a fait une capture d'écran à l'intention de la direction", ajoute le magazine. Comme quoi il faut toujours choisir ses amis avec soin, dans la vie comme sur Facebook.
---