Privacy
Vie_privée
Guide d'autodéfense numérique. Ouvrir ses logiciels mais fermer ses données à l'ère du cloud computing. Voici une courte traduction qui aborde furtivement deux sujets selon nous intéressants.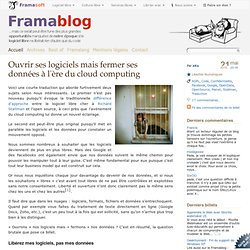 Le premier n'est pas nouveau puisqu'il évoque la traditionnelle différence d'approche entre le logiciel libre cher à Richard Stallman et l'open source, à ceci près que l'avènement du cloud computing lui donne un nouvel éclairage. Le second est peut-être plus original puisqu'il met en parallèle les logiciels et les données pour constater un mouvement opposé. Nous sommes nombreux à souhaiter que les logiciels deviennent de plus en plus libres. Top 10 Privacy Tweaks You Should Know About. HeinOnline. Protecting 'privacy' through control of 'personal' data processing: A flawed approach - International Review of Law, Computers.
Apophenia » Blog Archive » Facebook and "radical transparency" (a rant) At SXSW, I decided to talk about privacy because I thought that it would be the most important issue of the year.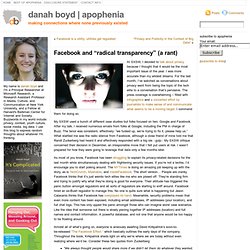 I was more accurate than my wildest dreams. For the last month, I've watched as conversations about privacy went from being the topic of the tech elite to a conversation that's pervasive. La vie privée et la technologie | InternetActu.net. Par Hubert Guillaud le 17/09/08 | 9 commentaires | 9,623 lectures | Impression Le magazine Scientific American consacre son numéro de septembre à la vie privée et aux défis qu'elle adresse aux spécialistes de la sécurité.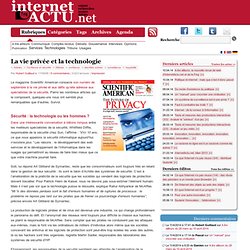 Parmi les nombreux articles qui le composent, quelques-uns nous ont semblé plus remarquables que d'autres. Survol. Sécurité : la technologie ou les hommes ? Dans une intéressante conversation à bâtons rompus entre les meilleurs spécialistes de la sécurité, Whitfield Diffie, responsable de la sécurité chez Sun, l'affirme : "d'ici 10 ans, ce que nous appelons la sécurité informatique aujourd'hui, n'existera plus." This is the end, my friend [Privacy and Social Media] A new first for Ustream.tv and possibly the net, a birth was streamed live to the world today from West Pennsylvania.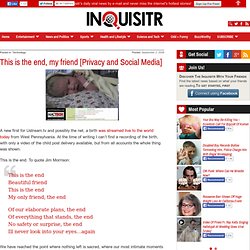 At the time of writing I can't find a recording of the birth, with only a video of the child post delivery available, but from all accounts the whole thing was shown. This is the end.
---