Pretty pics
Wild Scenics Pictures. Iceland » one big photo. Random photo Submit your photo Stumble Thru Most Amazing Clouds You'll Ever See top galleries aurora borealis behind clouds.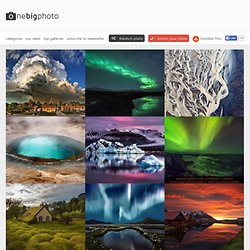 Most popular photography on StumbleUpon! The Lost Gardens of Heligan in Cornwall. By Eric • Apr 7, 2011 • Selected Work Located near near the village of Mevagissey in Cornwall, the Lost Gardens of Heligan, are one of one of Cornwall's must-visit gardens.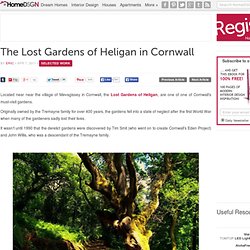 Originally owned by the Tremayne family for over 400 years, the gardens fell into a state of neglect after the first World War when many of the gardeners sadly lost their lives. It wasn't until 1990 that the derelict gardens were discovered by Tim Smit (who went on to create Cornwall's Eden Project) and John Willis, who was a descendant of the Tremayne family. 1280px-Panthera_tigris_altaica_13_-_Buffalo_Zoo.jpg (JPEG Image, 1280 × 868 pixels) - Scaled (68. Biggamecats02.jpg (JPEG Image, 650 × 433 pixels) The Top 25 Photo Galleries of 2011. Dec 29, 2011 Below you will find a collection of the Sifter's top 25 galleries posted in 2011.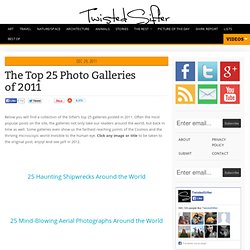 Often the most popular posts on the site, the galleries not only take our readers around the world, but back in time as well. These 50 Photos Will Blow you Away. Great news today: we will start a series of showcases that are meant to make the jaws drop!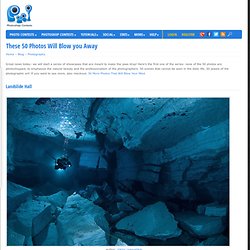 Here's the first one of the series: none of the 50 photos are photoshopped, to emphasize the natural beauty and the professionalism of the photographers. 50 scenes that cannot be seen in the daily life, 50 jewels of the photographic art! If you want to see more, also checkout: 50 More Photos That Will Blow Your Mind. National Geographic Photo Contest 2011 - In Focus. National Geographic is currently holding its annual photo contest, with the deadline for submissions coming up on November 30.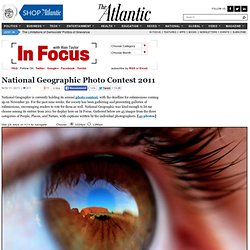 For the past nine weeks, the society has been gathering and presenting galleries of submissions, encouraging readers to vote for them as well. National Geographic was kind enough to let me choose among its entries from 2011 for display here on In Focus. Mesmerizing Nature Photography by Angus Clyne. Africa by Amnon Eichelberg.
The Top 50 'Pictures of the Day' for 2011. Every day at 5pm the Sifter posts the Picture of the Day.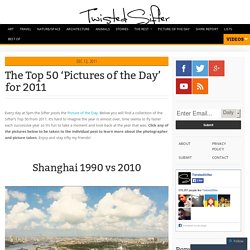 Below you will find a collection of the Sifter's Top 50 from 2011. It's hard to imagine the year is almost over, time seems to fly faster each successive year so it's fun to take a moment and look back at the year that was. Click any of the pictures below to be taken to the individual post to learn more about the photographer and picture taken. Enjoy and stay sifty my friends! PARIS - panorama | © gillesvidal - photographe. Launch_vernacotola_s.jpg (1000×761) Eclipse.JPG (520×511) Incredible Space Pics from ISS by NASA astronaut Wheelock. Go Discovery!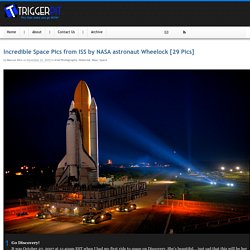 It was October 23, 2007 at 11:40am EST when I had my first ride to space on Discovery. She's beautiful… just sad that this will be her last voyage. Looking forward to climbing aboard the flight deck when Discovery arrives at the Space Station in November. (9-23-2010). Incredible Photos from Space: Larry Tanner, NASA. 36 Jaw-Dropping Nature Photos. A stunning time-lapse of Iceland's nightless summer. Awesome pictures from around the world | Vivi The Mage. Someone sent me these in a chain email, it was horribly formatted.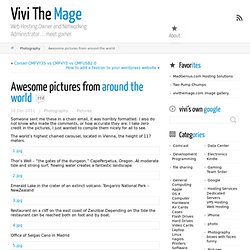 I also do not know who made the comments, or how accurate they are. I take zero credit in the pictures, I just wanted to compile them nicely for all to see. The world's highest chained carousel, located in Vienna, the height of 117 meters. 6a00d8341bf67c53ef015391ee99b6970b-pi (1024×1024) Stream (Infrared) by David A. Evans. Beautiful Photographs of Star Trails Above Australian Outback. Banana-og-1lg.jpg (1600×1600) SVetter_1280.jpg (1280×686) The Aurora. Sunsets... 1591454848_1366x768.jpg (1366×768)
---