English
The effect of Anonymous on Wikileaks, Tunisia & the world. Anyone who is a loyal reader of MyCE news knows that Anonymous has played a pivotal role in rallying individuals all over the world to join in the fight against government oppression and censorship with the WikiLeaks scandal, the revolution in Tunisia, and in earlier Operation Payback missions.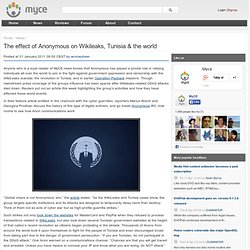 Though mainstream press coverage of the groups influence has been sparse after Wikileaks-related DDoS attacks died down, Reuters put out an article this week highlighting the group's activities and how they have affected these world events. In their feature article entitled In the chatroom with the cyber guerrillas, reporters Marius Bosch and Georgina Prodhan discuss the history of this type of digital activism, and go inside Anonymous iRC chat rooms to see how Anon communications work. "Global chaos is not Anonymous' aim," the article states. "As the WikiLeaks and Tunisia cases show, the group targets specific institutions and its attacks are designed to temporarily delay more than destroy. Operation Tunisia Backfires. The distributed denial of service (DDoS) campaign launched by Anonymous against Tunisian government websites called Operation:Tunisia has completely backfired by putting the lives of the people Anonymous claims to be helping at risk.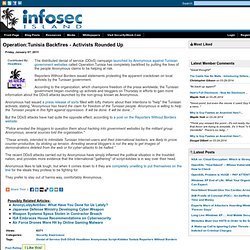 Reporters Without Borders issued statements protesting the apparent crackdown on local activists by the Tunisian government. According to the organization, which champions freedom of the press worldwide, the Tunisian government began rounding up activists and bloggers on Thursday in efforts to gain more information about the DDoS attacks launched by the non-group known as Anonymous. Anonymous had issued a press release of sorts filled with lofty rhetoric about their intentions to "help" the Tunisian activists, stating "Anonymous has heard the claim for freedom of the Tunisian people. Anonymous activists target Tunisian government sites. 4 January 2011Last updated at 15:24 Sites associated with Anonymous have also come under attack Key websites of the Tunisian government have been taken offline by a group that recently attacked sites and services perceived to be anti-Wikileaks.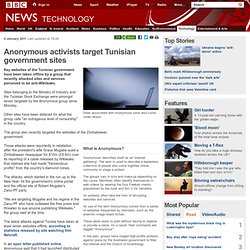 Tunisian protests move to cyberspace ( - Internet - Security - Government ) Violent protests in Tunisia have turned into a cyberwar between government forces and the Anonymous hacker group, after Gmail, Facebook, Yahoo and Hotmail accounts of perceived dissidents were censored.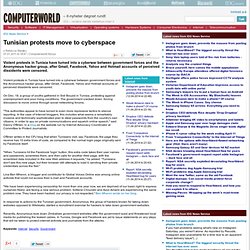 On Dec. 18, a group of youths gathered in Sidi Bouzid in Tunisia, protesting against unemployment and poor living conditions. The government cracked down, forcing discussion to move online through social networking forums. "The authorities appear to have turned to even more repressive tactics to silence reporting. In the case of Internet bloggers, this includes what seems a remarkably invasive and technically sophisticated plan to steal passwords from the country's own citizens, in order to spy on private communications and squelch online speech," said Danny O'Brien, in a blog on the website run by Internet Advocacy Coordinator at Committee to Protect Journalists. Anonymous activists target Tunisian government websites in WikiLeaks campaign. Tunisian government websites have been targeted by pro-WikiLeaks activists from the Anonymous group.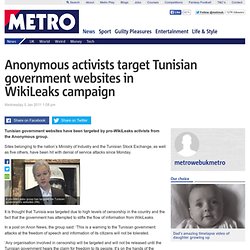 Sites belonging to the nation's Ministry of Industry and the Tunisian Stock Exchange, as well as five others, have been hit with denial of service attacks since Monday. It is thought that Tunisia was targeted due to high levels of censorship in the country and the fact that the government has attempted to stifle the flow of information from WikiLeaks. In a post on Anon News, the group said: 'This is a warning to the Tunisian government: attacks at the freedom of speech and information of its citizens will not be tolerated.
'Any organisation involved in censorship will be targeted and will not be released until the Tunisian government hears the claim for freedom to its people. It's on the hands of the Tunisian government to stop this situation. Anonymous Operation Tunisia rages, US Govt grows worried. Over the past couple of weeks , rogue freedom-fighting organization Anonymous has been ramping up efforts to convey a message to the Tunisian government expressing that their censorship of the country's internet access and oppression of citizens will not be tolerated.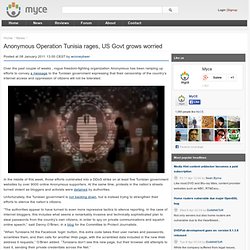 In the middle of this week, those efforts culminated into a DDoS strike on at least five Tunisian government websites by over 9000 online Anonymous supporters. At the same time, protests in the nation's streets turned violent as bloggers and activists were detained by authorities. Unfortunately, the Tunisian government is not backing down, but is instead trying to strengthen their efforts to silence the nation's citizens. "The authorities appear to have turned to even more repressive tactics to silence reporting.
---