Présenter les tweets
Tweeting Earth
moritz.stefaner.eu - revisit
Revisit permet de visualiser sous forme graphique les tweets autour d'un sujet ou d'un compte Twitter, et de matérialiser les relations entre eux. C'est beau, pratique et dynamique, le mur étant mis à jour en temps réel by agentit Apr 20
Polemic tweet - Live Video and Annotation
Tweet Topic Explorer
Twitterfall
Visible Tweets – Twitter Visualisations. Now with added prettine
Patchwork Tweet
TwitterCamp at Daniel Dura
Update: As of November 24, 2008 : TwitterCamp has been updated. The latest version now uses the Twitter search API, so users no longer need to authenticate or follow the target user to see their messages on the screen.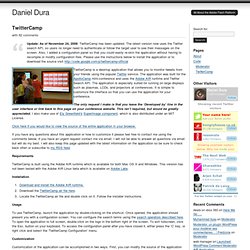 10 SITES POUR PARTAGER DES PHOTOS SUR TWITTER
Les photos prises sur Twitter ne sont pas libres de droit
Daniel Morel, un photographe indépendant haïtien, avait porté plainte contre l'AFP en avril dernier.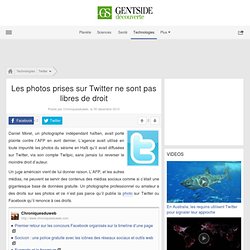 Les couleurs du web social