Présenter les tweets
Tweeting Earth. Memolane | See, search, and share your life. Revisit. Polemic tweet - Live Video and Annotation. Tweet Topic Explorer. Twijector - real-time twitter wall (back channel) for conferences and events | Twitter broadcasting | Twitter wall. IS Parade. Twitterfountain 2.0 beta now live! Twitterfall. Visible Tweets – Twitter Visualisations. Now with added prettine. Patchwork Tweet. TwitterCamp at Daniel Dura. Update: As of November 24, 2008: TwitterCamp has been updated.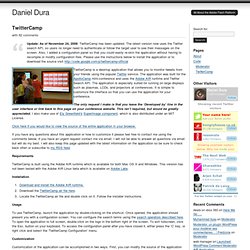 The latest version now uses the Twitter search API, so users no longer need to authenticate or follow the target user to see their messages on the screen. Also, I added a configuration panel so that you could easily re-skin the application without having to recompile or modify configuration files. Please use the instructions below to install the application or to download the source visit TwitterCamp is a desktop application that allows you to monitor tweets from your friends using the popular Twitter service. The application was built for the ApolloCamp mini-conference and uses the Adobe AIR runtime and Twitter Search API. 10 SITES POUR PARTAGER DES PHOTOS SUR TWITTER. Du texte c'est bien gentil, mais des images c'est plus joli !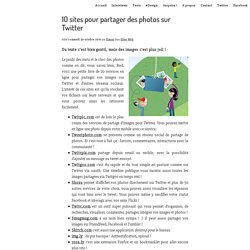 Le poids des mots et le choc des photos comme on dit, vous savez bien. Bref, voici une petite liste de 20 services en ligne pour partager vos images sur Twitter et d'autres réseaux sociaux. L'intérêt de ces sites est qu'ils stockent vos fichiers sur leurs serveurs et que vous pouvez ainsi les retrouver facilement. Twitpic.com est de loin le plus connu des services de partage d'images pour Twitter. Vous pouvez mettre en ligne une photo depuis votre mobile avec ce service. Les photos prises sur Twitter ne sont pas libres de droit. Daniel Morel, un photographe indépendant haïtien, avait porté plainte contre l'AFP en avril dernier.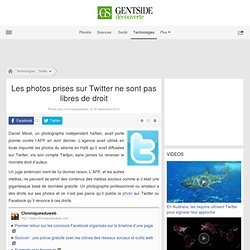 L'agence avait utilisé en toute impunité les photos du séisme en Haïti qu'il avait diffusées sur Twitter, via son compte Twitpic, sans jamais lui reverser le moindre droit d'auteur. Un juge américain vient de lui donner raison. L'AFP, et les autres médias, ne peuvent se servir des contenus des médias sociaux comme si c'était une gigantesque base de données gratuite. Themeleon :: Twitter Profile Designer by COLOURlovers. Les couleurs du web social.
---