Prehistory
Tools Of A Kind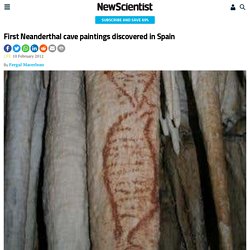 First Neanderthal cave paintings discovered in Spain - life - 10 February 2012
Cave paintings in Malaga, Spain, could be the oldest yet found – and the first to have been created by Neanderthals.
Stone Age Art Gets Animated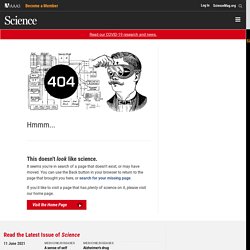 Down and out.
Were Neandertals and Modern Humans Just Ships in the Night?
Forget peaceful interbreeding: a new analysis of archaeological sites in south-west France has resurrected the idea that it was good old-fashioned competition that led to the demise of the European Neanderthals in the face of modern humans. Since a recent analysis of the revealed the first clear evidence that , researchers from a number of academic fields have seized on this nugget of information to formulate new – and less brutal – hypotheses for the Neanderthals' fate. For instance, immunologists suggest modern humans could survive in Neanderthal territory only because they bred with the locals and so .
Industrial revolution sealed Neanderthals' fate - life - 28 July 2011
ON THE western fringes of Siberia, the Stone Age Denisova cave has surrendered precious treasure: a toe bone that could shed light on early humans' promiscuous relations with their hominin cousins. New Scientist has learned that the bone is now in the care of Svante Pääbo at the Max Planck Institute for Evolutionary Anthropology in Leipzig, Germany, who revealed the first genetic evidence of interbreeding between ancient humans and other hominins ( New Scientist , 30 July, p 34) .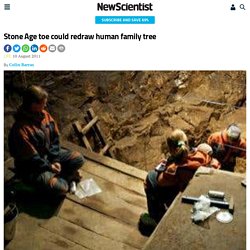 Stone Age toe could redraw human family tree - life - 10 August 2011
Evolution :: News :: September 5, 2011 :: :: Email :: Print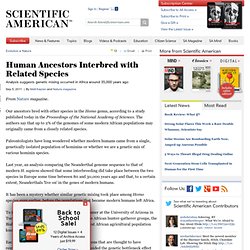 Human Ancestors Interbred with Related Species
Neanderthals' successful adaptation to climate change may have contributed to their extinction by leading to more interactions with humans.
Were Neanderthals Victims of Their Own Success? | Hominid Hunting
Tuna has been on the menu for a lot longer than we thought.
Deep sea fishing for tuna began 42,000 years ago - life - 24 November 2011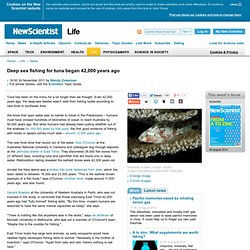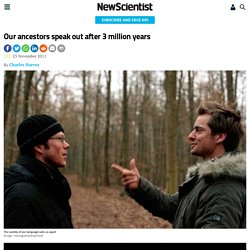 Our ancestors speak out after 3 million years - life - 23 November 2011
Listen to simulations of our ancestors' first sounds
The World's Oldest Profession: Chef
Entoptics or Doodles: Children of the Cave
There was a time when Paleolithic cave paintings were construed primarily through the lens of "art," an interpretive stance which assumes that at least some Paleolithic peoples were "artists" who painted for pleasure.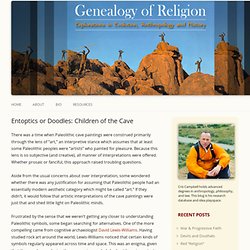 Shelters Date To Stone Age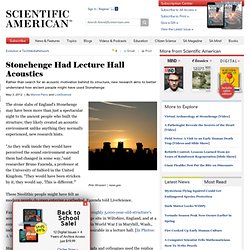 Evolution :: TechMediaNetwork :: May 3, 2012 :: :: Email :: Print
Stonehenge Had Lecture Hall Acoustics
"The statues walked," Easter Islanders say. Archaeologists are still trying to figure out how—and whether their story is a cautionary tale of environmental disaster or a celebration of human ingenuity.
Easter Island
How Africa Became the Cradle of Humankind | Hominid Hunting
The Taung Child was killed by an eagle about three million years ago. Image courtesy of Wikicommons
Iceman Autopsy
By Stephen S.
Ötzi the iceman's stomach throws up a surprise - life - 11 December 2011
IT'S time to rethink Ötzi the iceman's last hours. The theory that he was caught and killed after a lengthy and exhausting chase through the Alps clashes with new evidence that he sat down for a leisurely meal no more than an hour before his violent death. Ötzi's body was discovered in 1991 inside a glacier near the mountainous border between Italy and Austria.