Pour mémoire: luxe & web
Why Hugo Boss is a social media king. Hugo boss is a social media dynamo Luxury brands can learn from Hugo Boss' use of social media, which is effective, drives ROI and is integrated with the company's other marketing efforts.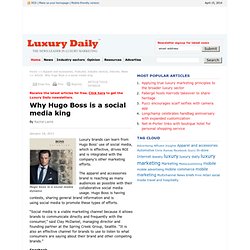 The apparel and accessories brand is reaching as many audiences as possible with their collaborative social media usage. Hugo Boss is having contests, sharing general brand information and is using social media to promote these types of efforts. CREATETHE GROUP | What We Do. BoF ? The Business of Fashion. Fashion's Collective: A Resource in Digital and Social Media Marketing for Fashion and Luxury Brands. Luxury Daily. Fashion, Social Media + Mobile Marketing Blog. Luxe et 2.0 Vrac.
Luxe & Social Media.
---