Bank Transfer Day 11/5/11
Get flash to fully experience Pearltrees
msnbc talking head Dylan Ratigan fomenting a movement to get money out of campaigning/lobbying by kathologist Oct 6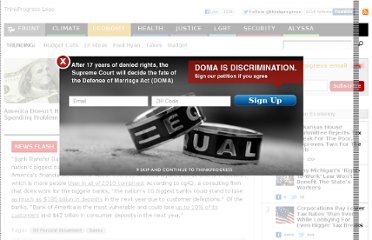 10 Biggest Banks Could Lose $185 Billion In Deposits Next Year As Customers Move Their Money | During "Bank Transfer Day" earlier this month, 40,000 Americans moved their money from the nation's biggest banks to credit unions, voicing their distaste with the action's of America's financial behemoths. About 650,000 Americans joined credit unions in October, which is more people than in all of 2010 combined . According to cg42, a consulting firm that does work for the biggest banks, "the nation's 10 biggest banks could stand to lose as much as $185 billion in deposits in the next year due to customer defections." Of the banks, "Bank of America is the most vulnerable and could lose up to 10% of its customers and $42 billion in consumer deposits in the next year." <p style="text-align:right;color:#A8A8A8"></p>
The Federal Reserve and the big banks fought for more than two years to keep details of the largest bailout in U.S. history a secret. Now, the rest of the world can see what it was missing. The Fed didn't tell anyone which banks were in trouble so deep they required a combined $1.2 trillion on Dec. 5, 2008, their single neediest day. Bankers didn't mention that they took tens of billions of dollars in emergency loans at the same time they were assuring investors their firms were healthy. And no one calculated until now that banks reaped an estimated $13 billion of income by taking advantage of the Fed's below-market rates, Bloomberg Markets magazine reports in its January issue. Enlarge image
Rep. Bob Filner (D-CA) Shahien Nasiripour has a great scoop in the FT – bank regulators have uncovered up to 5000 military families who were foreclosed on illegally by mortgage servicers. Foreclosures on active duty troops is usually a big no-no, for a lot of reasons – for instance, when your credit rating is damaged by a foreclosure, it can impact your national security clearance. In addition, there's enormous stress that the soldier goes through when his or her family is facing a threat of eviction, and it's the kind of stress that makes him or her less equipped to be ready in a warzone. Congressman Bob Filner has even accused banks of "homicide" against American troops , blaming the banks for suicides resulting from the increased stress brought on by aggressive debt collection techniques.
After nearly a month of negotiations, Oregon has reached an agreement with U.S. Bank to eliminate many of the fees the bank charges people to access their unemployment benefits. "The changes we have negotiated will benefit Oregon card users and taxpayers," said Oregon State Treasurer Ted Wheeler in a statement released Tuesday. "I want to thank U.S. Bank for listening to the needs of Oregonians and for their commitment to making the program even better for all involved."
October 19, 2011 | Like this article? Join our email list:
FRESNO, Calif — Fed up with rising fees, frustrated customers of national banks are closing their accounts. They're turning instead to community banks and credit unions, which are taking advantage of the rising tide of consumer unrest. A growing grass-roots campaign culminates Saturday with "Bank Transfer Day," when people nationwide are encouraged to switch to credit unions.