Aprendizaje
aprendizaje_creativo - cuales son las claves del aprendizaje crativo
Sharebar Because last year's list of 10 Ways To Learn In 2010 was widely read, I knew I had no choice but to create an even longer list for 2011. The opportunities for online learning have grown tremendously this past year.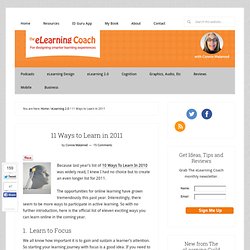 11 formas de aprender en el año 2011: El entrenador eLearning
Aviso de redirección
Aviso de redirección
"Conectivismo y transculturalidad: la construcción de entornos personalizados de aprendizaje". Stephen Downes
EduFacebook
Más Allá del Aula Virtual: ¿Entornos Personales de Aprendizaje? (Act. ..
Estudiando con Youtube y Google Plus