Politics
Introduction There is probably more rubbish talked about anarchism than any other political idea. Actually, it has nothing to do with a belief in chaos, death and destruction. Anarchists do not normally carry bombs, nor do they ascribe any virtue to beating up old ladies. It is no accident that the sinister image of the mad anarchist is so accepted.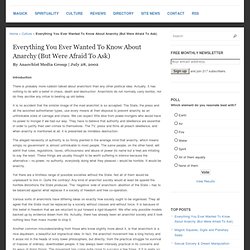 Everything You Ever Wanted To Know About Anarchy (But Were Afraid To Ask) | Spiral Nature
Bill Maher Discusses Religious Fanatics - a News & Politics video
THINGS REPUBLICANS HATE | The Complete Guide to Conservative Hatred.
Courage Campaign
Political Compass Printable Graph