JS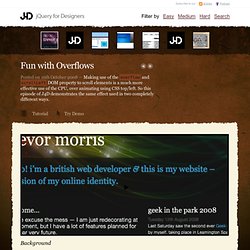 Fun with Overflows
Background The first is a scrollable timeline. A couple of readers requested a demo of how Plurk's browse timeline works. In addition, in the last month, Google released a 10 year timeline – so I wanted to show how this works. The second was a request from Trevor Morris who's involved with/runs Geek in the Park. He asked whether the techniques I used in a jQuery marquee plugin I wrote recently could be used to smooth out CPU spikes that were occurring on his site when the header pattern flowed (see example below)
Tutoriel Filtre Javascript
In this tutorial we will introduce some basics of D3.js and create an infographic with multiple area charts along with a context tool to zoom and pan the data. View demo Download source The D3.js website describes itself as "a JavaScript library for manipulating documents based on data." It is but one of many in the ever growing list of visual data JavaScript libraries. D3 was created by Mike Bostock who was the lead developer on Protovis, which D3.js builds on.
Multiple Area Charts with D3.js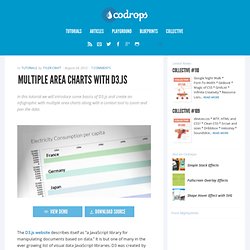 I am a MIT licensed collection of extremely useful DOM helpers and special events for jQuery 1.8 and later. I'm not a UI project like jQuery UI or jQuery Tools. Instead, I'm all about providing low-level utilities for things that jQuery doesn't support.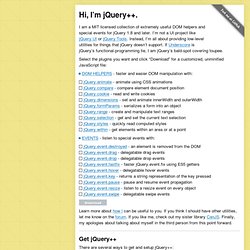 jQuery++
keyCodes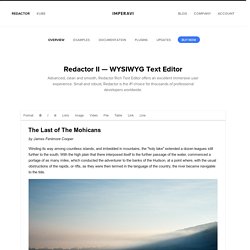 Beautiful and easy-to-use WYSIWYG html editor Incredibly simple yet powerful features for images: drag and drop them from your computer, copy and paste from an editor. Paste a link and see an image — also works with YouTube and Vimeo. Here it is, the all-new Redactor. It is the most advanced, developer-friendly and fantastic WYSIWYG to date. Let us outline the key features for you.
Every aspiring Web developer should know about the power of JavaScript and how it can be used to enhance the ways in which people see and interact with Web pages. Fortunately, to help us be more productive, we can use the power of JavaScript libraries, and in this article we will take a good look at jQuery in action. What Is jQuery?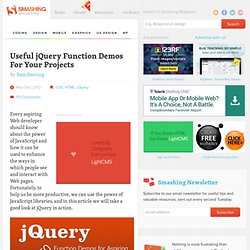 Sharrre - A plugin for sharing buttons
and have really nice VML rendering in IE as a bonus.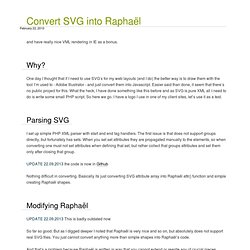 convert svg into raphaël » atirip