JS
Fun with Overflows. Background The first is a scrollable timeline.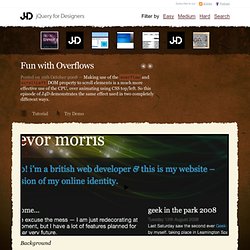 A couple of readers requested a demo of how Plurk's browse timeline works. In addition, in the last month, Google released a 10 year timeline – so I wanted to show how this works. Tutoriel Filtre Javascript. Multiple Area Charts with D3.js. In this tutorial we will introduce some basics of D3.js and create an infographic with multiple area charts along with a context tool to zoom and pan the data.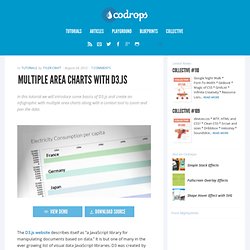 View demo Download source The D3.js website describes itself as "a JavaScript library for manipulating documents based on data." It is but one of many in the ever growing list of visual data JavaScript libraries. D3 was created by Mike Bostock who was the lead developer on Protovis, which D3.js builds on. jQuery++ I am a MIT licensed collection of extremely useful DOM helpers and special events for jQuery 1.8 and later.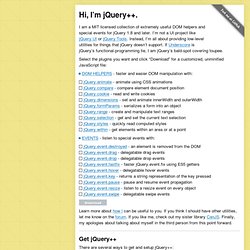 I'm not a UI project like jQuery UI or jQuery Tools. Instead, I'm all about providing low-level utilities for things that jQuery doesn't support. KeyCodes. Redactor WYSIWYG editor on jQuery. Now, redactor of @imperavi is leading the wysiwyg competition. lightweight, fast performance, beating tinymce, ckeditor, and others :) Drizzle Cloudy @drizzlecloudy Great #rte #editor redactor.js - and just had excellent support by @imperavi Urs Bräm @ursbraem We're starting Imperavi integration into TargetProcess.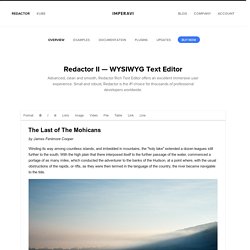 I personally waited for great editor for years. Seems it's finally there! Michael Dubakov @mdubakov. 50 jQuery Function Demos for Aspiring Web Developers - Smashing Coding. Every aspiring Web developer should know about the power of JavaScript and how it can be used to enhance the ways in which people see and interact with Web pages.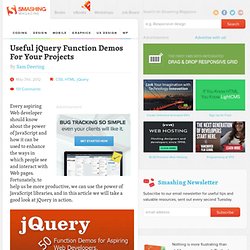 Fortunately, to help us be more productive, we can use the power of JavaScript libraries, and in this article we will take a good look at jQuery in action. What Is jQuery? In a nutshell, jQuery is a leading JavaScript library that can perform wonders on your Web pages and make your Web development life much easier and more enjoyable. Sharrre - A plugin for sharing buttons. Convert svg into raphaël » atirip. And have really nice VML rendering in IE as a bonus.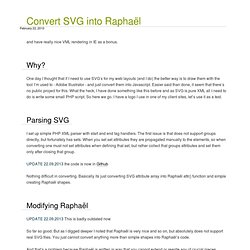 Why? One day I thought that if I need to use SVG's for my web layouts (and I do) the better way is to draw them with the tool I'm used to - Adobe Illustrator - and just convert them into Javascript. Easier said than done, it seem that there's no public project for this. What the heck, I have done something like this before and as SVG is pure XML all I need to do is write some small PHP script.
Learning jQuery - Tips, Techniques, Tutorials.
---