Poetry
Concrete Poetry. Poetry 180 - Home Page. Welcome to Poetry 180.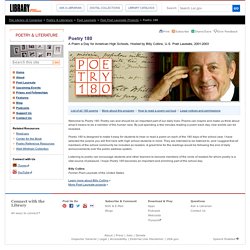 Poetry can and should be an important part of our daily lives. Poems can inspire and make us think about what it means to be a member of the human race. By just spending a few minutes reading a poem each day, new worlds can be revealed. Poetry 180 is designed to make it easy for students to hear or read a poem on each of the 180 days of the school year. I have selected the poems you will find here with high school students in mind. How to Write a Song Analysis for English Class. Tikatok - Kids Activities: Publish a Children's Book with Tikatok. Song Meanings at Songfacts. Poetry.
Poetry. Poetry. Poetry. Poetry Collections.
Elements of Poetry. Figurative Language. Free kids games, mother goose nursery rhymes, crafts, clip art, stories, videos- mothergoose.com. Six Word Stories.
---