Podcasts
Best Free Podcasts
free buddhist audio : free mp3s and texts on buddhism and meditation
The Naked Scientists Online, Science Podcast and Science Radio Show
AMBER by 311 - sleepy playlist
Slice of SciFi
s Buddhist eBook Library: General Buddhism, Meditation, Theravada and Mahayana Texts, History and Art.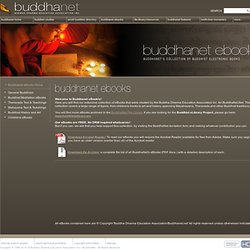 Welcome to Buddhanet eBook!s! Here you will find our extensive collection of eBooks that were created by the Buddha Dharma Education Association Inc. for BuddhaNet.Net. The collection covers a large range of topics, from childrens books to art and history, spanning Mayahayana, Theravada and other Buddhist traditions. You will find more eBooks archived in the BuddhaNet File Library. If you are looking for the Buddhist eLibrary Project, please go here: www.buddhistelibrary.org
Audio Archive « Daily Buddhism
Podcast: Buddhist Geeks - Seriously Buddhist, Seriously Geeky
Zencast.org
Bad Buddhist Radio: Episode 1 Introduction to Bad Buddhism. The Bad Buddha talks a little about the life and times of the Buddha and expounds on what makes for "Bad" Buddhism. First Podcast and Copyright (C): June 1, 2006.
Bad Buddhist Radio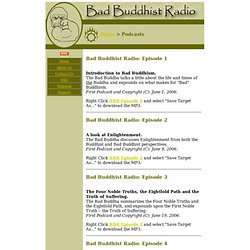 all talks
ChannelFlip
Episode 1 - Introduction at Linux Reality
Zen Guide: The Comprehensive Guide to Zen & Buddhism - Principles, Discussion, Practice, Community and Resources including RSS feeds. - ZENGUIDE.COM
GeekBrief.TV | Video Podcast
Radio 3 - Beethoven Experience - downloads
Pandora Internet Radio - Find New Music, Listen to Free Web Radio
Radio Station Guide
HOME radio
Windows Media