Plug-Ins
Advanced Custom Fields. Advanced Custom Fields is the perfect solution for any wordpress website which needs more flexible data like other Content Management Systems.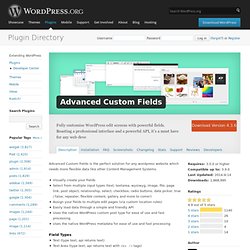 Visually create your FieldsSelect from multiple input types (text, textarea, wysiwyg, image, file, page link, post object, relationship, select, checkbox, radio buttons, date picker, true / false, repeater, flexible content, gallery and more to come!) Assign your fields to multiple edit pages (via custom location rules)Easily load data through a simple and friendly APIUses the native WordPress custom post type for ease of use and fast processingUses the native WordPress metadata for ease of use and fast processing.
WordPress Wufoo Integration.
---