#PLENK2010 Afterparty
Connectivism principles and course design. December 31, 2010 by jennymackness There seem to be an increasing number of attempts to design courses based on connectivism principles.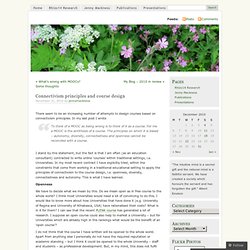 In my last post I wrote To think of a MOOC as being wrong is to think of it as a course. For me a MOOC is the antithesis of a course. Записная книжка Владимира Алексеева : The End Of The Course #PLENK2010. VNA open data file for CCK09 forum 2 released. What's wrong with (M)OOCs? Welcome to MOOC.CA ~ MOOC. What's wrong with MOOCS (eluminate discussion) Start Session Optionally, you can pre-configure your computer and test your audio using one of our Configuration Rooms prior to your session.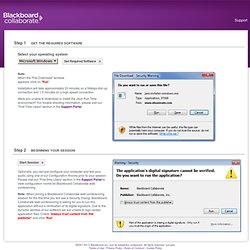 Please visit our "First time Users" section in the Support Portal to view configuration rooms for Blackboard Collaborate web conferencing. Note: When joining a Blackboard Collaborate web conferencing session for the first time you will see a Security Dialog. Blackboard Collaborate web conferencing is asking for you to run this application without a verification of its digital signature. Due to the dynamic abilities of our software we are unable to sign certain application files. Lisa's (Online) Teaching Blog » Blog Archive » Got MOOC? I have now been an enrolled student in two classes being referred to as MOOCs (Massively Open Online Classes).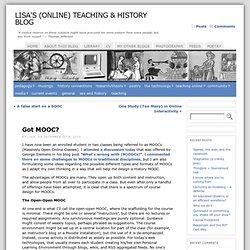 I attended a discussion today that was offered by George Siemens in his blog post "What's wrong with (M)OOCs? ". I commented there on some challenges to MOOCs in traditional disciplines, but I am also formulating some ideas regarding the possible different types and formats of MOOCs as I adapt my own thinking in a way that will help me design a History MOOC. What's wrong with (M)OOCs? When Stephen Downes and I ran Connectivism and Connective Knowledge 2008, the term MOOCs (massive open online course) was coined – by Dave Cormier and Bryan Alexander – to describe open online courses with fairly high registration numbers.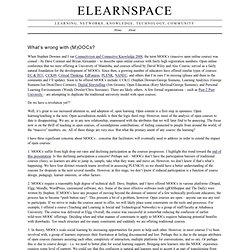 Open online conference that we were offering at University of Manitoba, and courses offered by David Wiley and Alec Couros, served as a fairly natural foundation for the development of MOOCs. Since then, a growing number of educators have offered similar types of courses: EC & I831, CCK09, Critical Thinking, EdFutures, PLENK, NANEC, and others that I'm sure I'm missing (please add them to the comments and I'll update). Jgchesney. Blogs Wikis Docs Chart. Time Zones.
MOOCs and the stock university course #plenk2010 | Morgan's Log. A first consideration of adapting MOOC techniques to the stock university situation.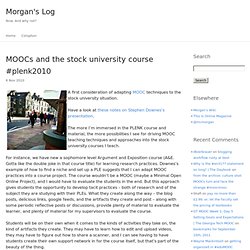 Have a look at these notes on Stephen Downes's presentation. The more I'm immersed in the PLENK course and material, the more possibilities I see for driving MOOC teaching techniques and approaches into the stock university courses I teach. My Personal Learning Network is the most awesomest thing ever!! We wrapped up our open course on Personal Learning Environments and Networks a few weeks ago.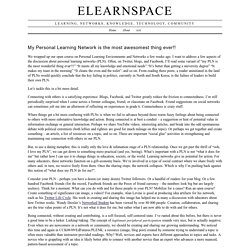 I want to address a few aspects of the discussion about personal learning networks (PLN). Often, on Twitter, blogs, and Facebook, I'll read some variant of "my PLN is the most wonderful thing evar!!!" BLC10 - Keynote - Resnick. Jenny Connected: PLEs and Learner Autonomy. Is lurking ever indefensible? December 11, 2010 by jennymackness I have been thinking about this question since my last post.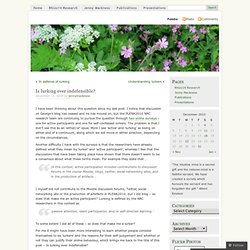 I notice that discussion on George's blog has ceased and he has moved on, but the PLENK2010 NRC research team are continuing to pursue the question through two online surveys – one for active participants and one for self-confessed lurkers. The problem is that I don't see this as an 'either/or' issue. More I see 'active' and 'lurking' as being on either end of a continuum, along which we will move in either direction, depending on the circumstances.
Another difficulty I have with the surveys is that the researchers have already defined what they mean by 'lurker' and 'active participant', whereas I feel that the discussions that have been taking place have shown that there doesn't seem to be a consensus about what these terms mean. Cultivating communities of practice ... Today's marketplace is fueled by knowledge.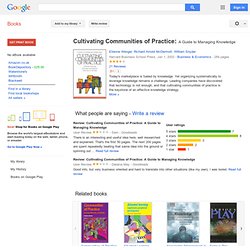 Yet organizing systematically to leverage knowledge remains a challenge. Leading companies have discovered that technology is not enough, and that cultivating communities of practice is the keystone of an effective knowledge strategy. Museums and the Web 2010: Papers: Liu, A., et al., Dulwich OnView: A Museum Blog Run by the Community for the Community. 1.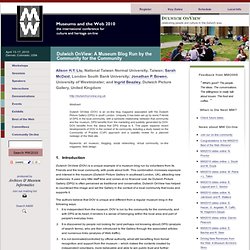 Introduction Dulwich OnView (DOV) is a unique example of a museum blog run by volunteers from its Friends and the local community, with posts about both. MOOCS.
---
jgchesney Dec 16 2010

Cool - and I love the name! Does it pick up our #plenk2010 tweets? That's where I'm sending stuff now...

cpjobling Dec 7 2010

A place to store useful links and discussions that emerged after PLENK2010. You can also help to curate the Master Pearltree too.
---